The end is near! You can do it!
The only negative thing about the end of the year is the work load.
Blerg.
I always wanted to leave as soon as I could, but the files spread out all over my guided reading table made it hard to get out.
What if I told you spending just 15 to 20 minutes extra a day could help your end of the year experience be smoother and more efficient?
This is part one of a three week series.  Each week  I am going to pop in on my blog and give you a short list of tasks to help you get ahead (GASP!  Ahead?  That is like a mythical unicorn!) and stay on top of the paperwork. I will also try to share any freebies that can make the job faster and as efficient as possible!
You can make it!

Compare to do lists with a colleague.  Add anything you missed to your to do list.
Look at your calendar.  Make sure you have added all important end of year events and due dates to the calendar.  Compare calendars with a colleague and compare against the school's master calendar (if one is available).

File any of those random stacks of papers for 10 minutes.  Set a timer.  These can be papers to go home.
Grade any one stack of papers.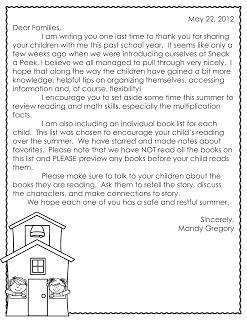 Go through all Reading Assessment kit, like the DRA kit.  Copy any passages or running records so that you are prepared for end of the year assessments.  Be extra prepared for next year, and  go ahead and copy assessments for the beginning of NEXT school year. File the copied assessments away to stay organized.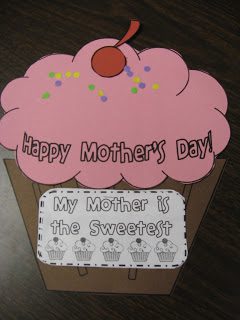 Plan any Mother's Day presents.  I have a cute and FREE on in my store! Click here to see it!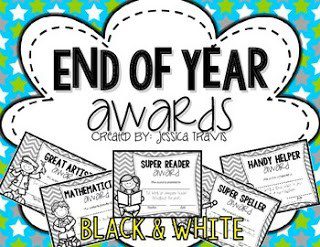 Plan any end of year awards.  These awards are adorable and FREE on Teachers Pay Teachers! She has the same awards in color if you are looking for color awards!
Looking for a FREE printable copy of this list?  Click here!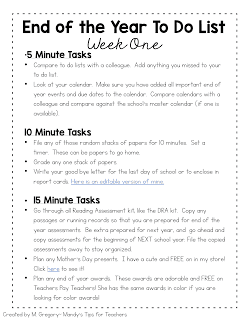 Which of these tasks will you accomplish this week?  Anything else you need to do?  Make sure to check back next week for a NEW task list!
 If you would like more ideas from me, be sure to follow me on Teachers Pay Teachers, Pinterest, and Facebook to catch all the freebies and ideas and more!!
PIN FOR Later: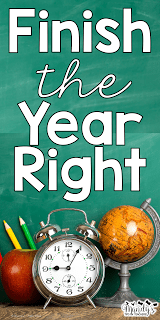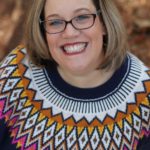 Mandy Gregory is a 2007 and 2012 Teacher of the Year. She has taught Kindergarten- 4th grades in both the general education and inclusion settings. She is currently a 1st grade Special Education teacher.  She is the owner and creator of Mandy's Tips for Teachers website (www.mandystipsforteachers.com) and has over 13 years of teaching experience. She is married with two beautiful children.