This is what I came home to tonight: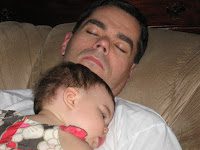 Aren't my hubby and baby adorable? I just wanted to scoop them both up and give them squishy hugs and kisses. I thought I knew what love was when I married, and then I had a child and realized how much more I love my husband now AND my child. It is mind boggling.
I spent today in the classroom. It was my fourth day in there and I think for the most part my room is put together. I still have some posters and such to put up. Since I coteach, my partner teacher will do a lot of that stuff. She has several children and didn't have daycare this week, so it was just me. Next week it is all her : ).
I forgot to take pictures before I left today . Opps. Sooo…I am posting pictures of what it looked like at the end of the day yesterday.

This is my counter. The first picture is the before and the second picture is the after. I use this area as an area for supplies and turning in papers. Papers are turned into the labeled, black stackers and pencils are in the clear basket and office walls are in the yellow basket.
I am working on reorganizing my baskets(somewhat). The white baskets are fiction, the black baskets are nonficton and the blue baskets (on the top) are fiction AND nonfiction. These baskets are ones with multiple copies , Folk Tale and Fairy Tales (aren't some considered fiction if they are fractured? I wasn't sure on this one). All the books on the floor are sorted and waiting for sticker labels.
These two pictures show what my desk area looked like when I walked in.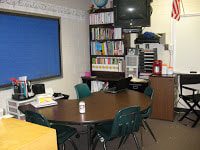 At the end of last year we moved the furniture so that my desk, guided reading table and materials were all together. I LOVE it! I can't figure out why I didn't do this YEARS ago. I never sit at my desk, I just use it to pile stuff on. I always work at my guided reading table. To help limit my piling and maximize space, I put a large bookcase with all my teacher resource materials on top of the desk. I have just enough room on the desk for my laptop (it is on my guided reading table since I hadn't fully set up the cords).
I am out of before and after pictures, so I will only post my afters from here on out!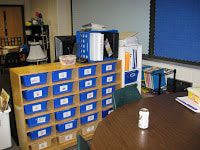 Next to my guided reading table are cubbies. I don't use mine for student materials or centers. Instead I use it to store my leveled library. Each tub contains a different level of books. My district gives teachers TONS of guided reading books and they can be hard to store- each tub is stacked FULL of books (what a nice problem to have!!).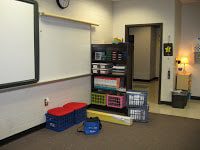 Right by the door is this large brown shelf. At first I thought it was a little strange, but now I love it. The shelf stores all of our materials for writer's workshop. The top shelf stores pens, crayons, glues sticks and so on. The second shelf has more tubs of crayons and markers (need LOTS of these!) and paper. The third shelf has resource materials. The bottom shelf has a crate of white boards and a crate of clipboards. Next to the wall are blue crates with cushions on them. I was going to make the fancy ones that are all over Proteacher, but my hubby was too tired to cut the wood and I was impatient (shocking). I already had the chair pads so it worked out just fine. I don't know if the picture is clear, but this is at the front on the room. The white board and the Promethean Board are at the front of the room in the middle of the picture. The whole purpose of the shelf is to block (somewhat) the doorway from student's view when they are sitting at the carpet during lessons (there is no carpet there right now because I am cleaning it at home). Since I coteach there are several students with special needs. Most of them are ADD or ADHD. Many are ADD or ADHD in addition to another disability so the teaching area needs to be as simple as possible to avoid distractions.
This shelf is above my teacher desk. I use it to store all my personal teaching resources (well, most of them) and my children's seasonal picture books. I LOVE IT! I used the cardboard boxes from IKEA. The fish cut outs are from the Dollar Tree and each fish is labeled with the teacher resource topics. The top shelf is the children's book since I will not need them as often. I turned the IKEA box on the side and taped the label to the bottom of the box. Here is a picture below.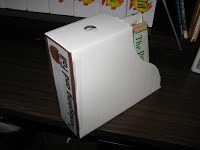 Here is a close up of the box. It looks so neat and clean on the shelf!
I am taking the day off tomorrow! I am going to see the new Harry Potter movie with a friend and I am so excited! I am bringing tissues because I am such a sap!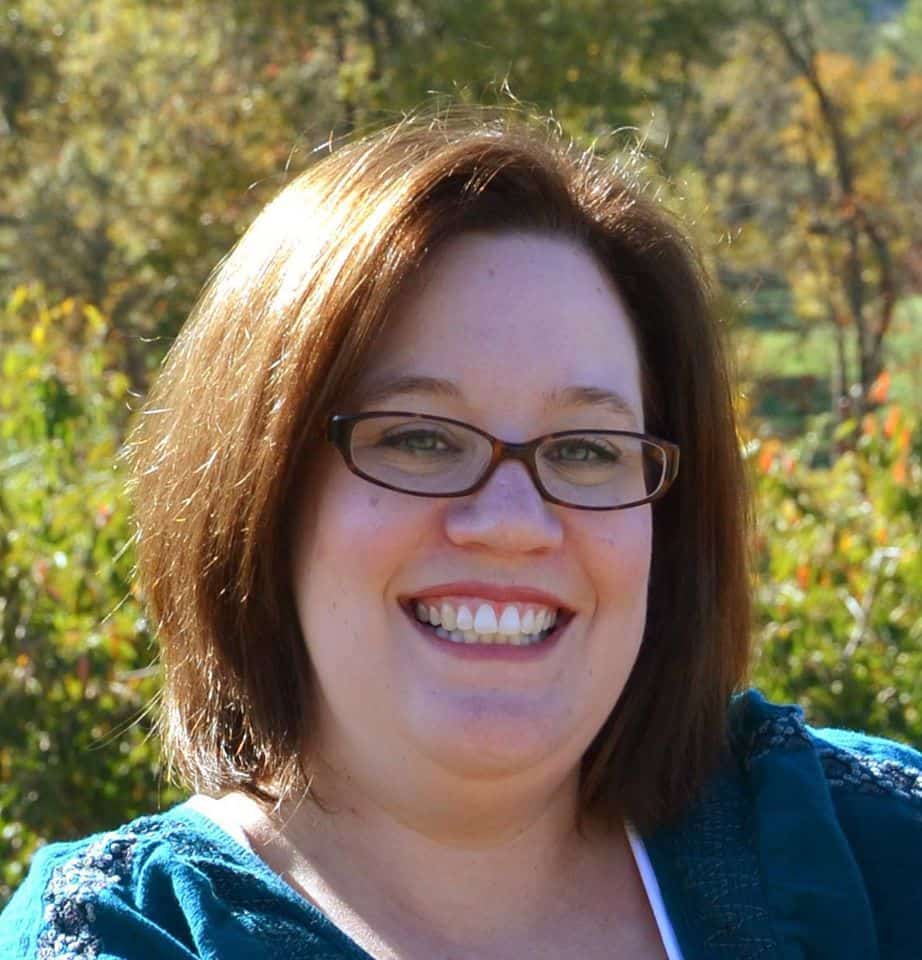 Mandy Gregory is a 2007 and 2012 Teacher of the Year. She has taught 4th, 3rd, and 2nd grade in both the general education and inclusion setting. She is the owner and creator of the Teaching Tips website (www.mandygregory.com) and has over 10 years of experience. She is married with two beautiful children.