I am so excited to share my latest series with you guys! I decide to write this series of units, after a friends asked for some resources. I started writing and writing and writing and before I knew it, a unit was born!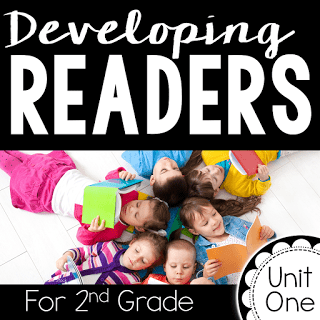 I had so much fun writing this one! This unit is perfect for the whole group mini lesson at the beginning of reading workshop.
When creating the unit, I analyzed the Common Core Standards for second grade. I know every state does not use these standards, but I thought they were a good, general starting point.
I knew I wanted to start with literary text since it can be applied to writing (narratives and personal narratives) and it was a good launching point since many students are more familiar with literary texts than informational texts. I also considered what skills and/or strategies students needed to be successful at the beginning of the school year.
After looking at many of the Literature standards I found a common theme that could be used as a backbone for many standards: story elements.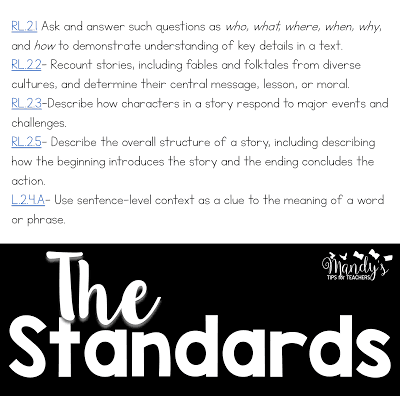 The story elements, and the ability to recognize and apply them are woven through several of the Literature standards. Then, I organized the concepts in a meaningful order for instruction.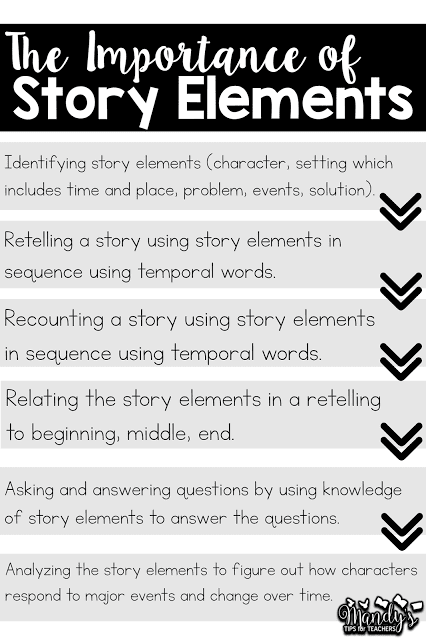 After I unpacked and analyzed that standards, I looked for texts that would be engaging and easily fit within the instructional standards. I wanted to use strong examples of literary texts.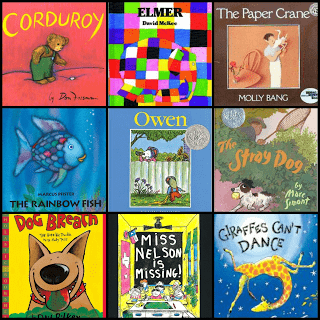 Going through all my books was one of my favorite parts! I LOVE children's literature! These are all the books in the five week long unit.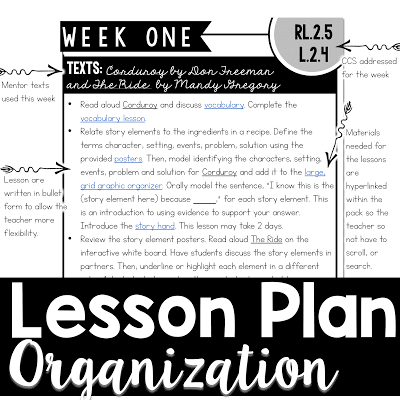 I tried to make the lesson plans as easily and adaptable as possible. At first, I was going to write explicit, daily lesson plans. Then, I decided that the teacher may need more flexibility. Instead, I created a weekly plan with the lessons listed in bullet points.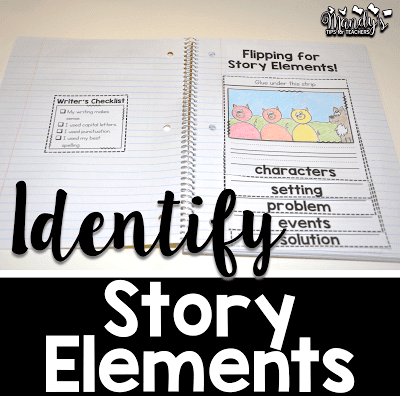 In addition to 5 weeks of lessons with all the included materials and anchor charts, I wanted to include some extras. I wanted students to be able to practice the different skills from the unit in their own independent reading from their book boxes or in guided reading groups.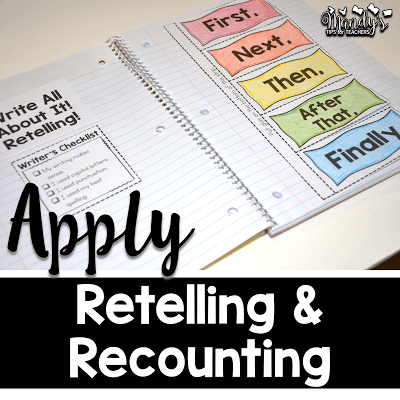 There are 16 different activities that target identifying story elements, recounting or retelling stories, identifying beginning/ middle/end and character response.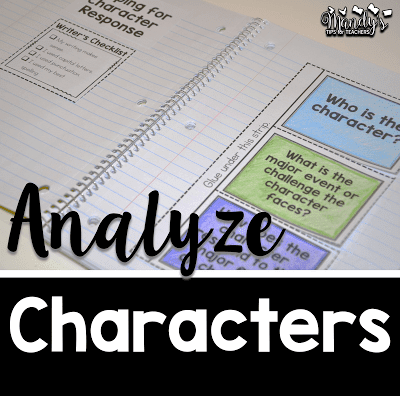 Most of the activities are perfect for interactive notebooks and can be reused multiple times with different texts!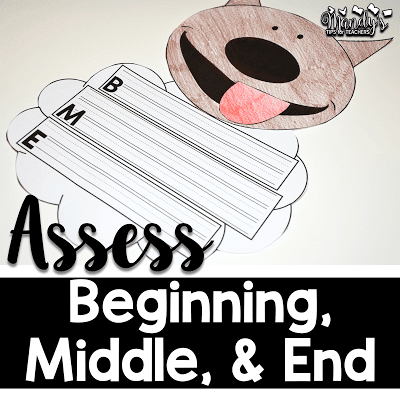 I wanted to balance fun and rigorous, so I created this adorable craft to assess beginning, middle, and end of Dog Breath by Pilkey. I mean, come on! The stinky breath is the graphic organizer!?!?! I am dying at the fun! LOL! However, it is also a great formative assessment.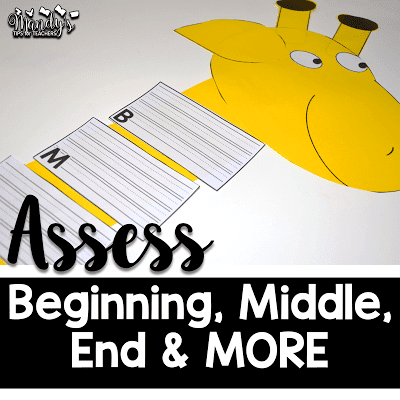 Another craft is included to assess your students with the book Giraffes Can't Dance. Students create the giraffe head, identifying the beginning/middle/end of the story and identify the major event and the character's response. So, it is a nice little craft that gets a lot of mileage!
I wanted some more than just cute crafts for assessments.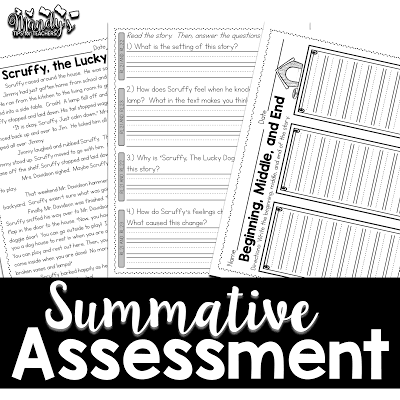 An end of unit test is also included. Students read a passage and answer 4 open answer questions. The matching CCS for each question is noted next to the problem number. Then, students use a graphic organizer to identify the beginning/ middle/ end of the passage.
If you would like to see even MORE from this unit, watch the Facebook Live video for a walk through of all the materials!
Not sure if this fits your needs? Try the first week, with all the lessons and materials FREE!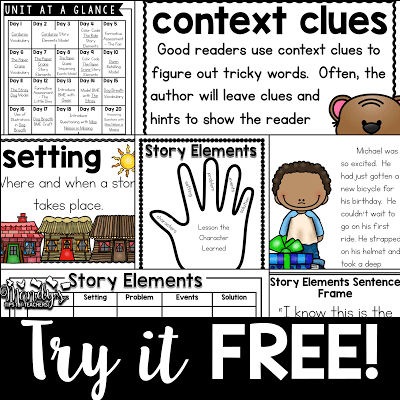 I would love to hear your thoughts on the above unit and see if it meets your needs, or you are looking for something specific!
Looking for more great freebies? Click
here
for this great pack of FREE math centers, plus get tips and updates from me!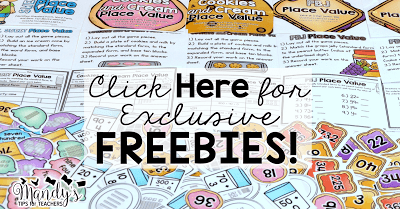 Pin it for later: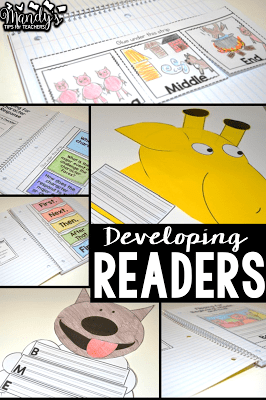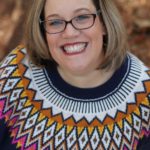 Mandy Gregory is a 2007 and 2012 Teacher of the Year. She has taught Kindergarten- 4th grades in both the general education and inclusion settings. She is currently a 1st grade Special Education teacher.  She is the owner and creator of Mandy's Tips for Teachers website (www.mandystipsforteachers.com) and has over 13 years of teaching experience. She is married with two beautiful children.