I am so excited to be linking up with Classroom Tested Resources to share my FAVORITE holiday baking recipes!!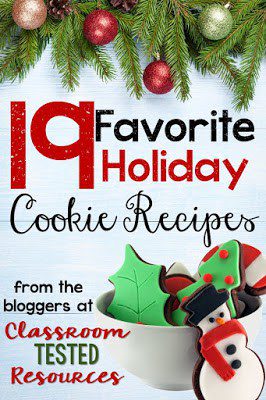 I love the thought of making Christmas cookies for my girls and giving lovely plates of cookies craftily wrapped with springs of evergreen to my neighbors.
But let's get real.
Baking with small children is hard. And generally, not the most sanitary. So, the LAST thing I want to do is wrap any of our personalized germs up to share with neighbors!
Instead, I try to get my holiday baking done during nap time. This means I only have a short, uninterrupted time to work. I made all THREE of these recipes during nap time (2 and a half hours- it was a long one) AND cleaned up. It was magical!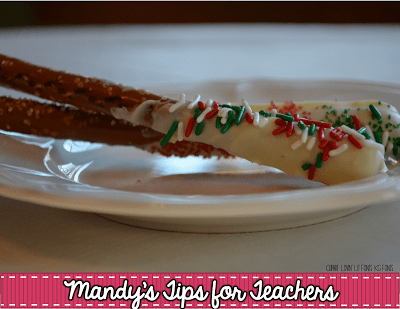 This is an oldie, but goodie! White chocolate dipped pretzel rods!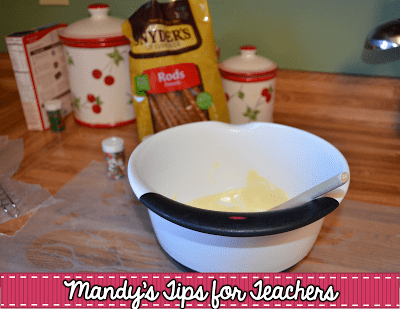 To make these I simply melted a bag of white chocolate chips in the microwave (following the directions on the bag).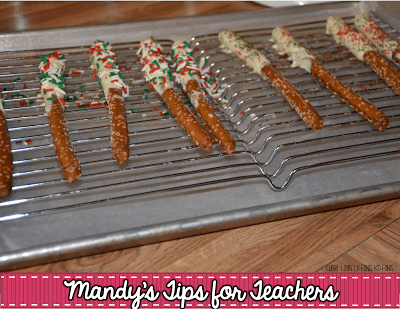 I dipped the pretzel rods and set on a wire rack to harden. I did put wax paper under the rack for easy clean up. Then, I shook Christmas colored sprinkles all over the white chocolate.
I found some small, cellophane bags at Wal-Mart and wrapped two to a bag! Super cute and easy clean up!
Have you ever made these pretzel treats?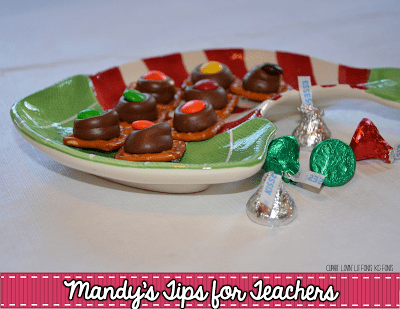 These are so easy and kids can help with these, if you want ;).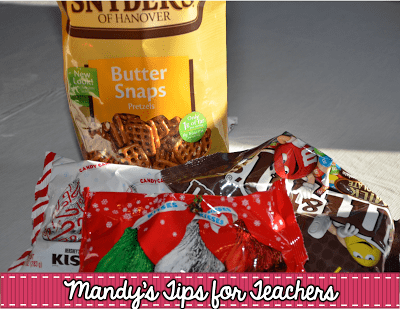 You just need Butter Snap pretzels (they look like windows), M&M's, and Hersey kisses. I used a combination of regular kisses and peppermint kisses.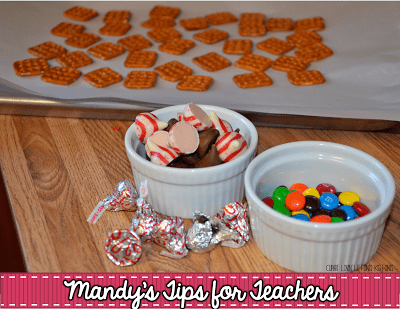 Lay out the pretzels on a baking sheet. Heat the oven to about 325 degrees. Put one kiss on each pretzel. Pop in the oven for about 2-5 minutes- just long enough to soften the chocolate without burning it. Take the pan out of the oven. Squish one M&M on top of each kiss. I put the pan in the refrigerator to cool quickly.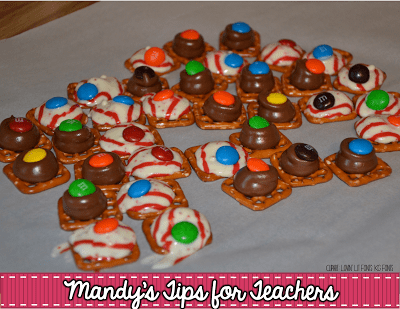 Note to self- the peppermint kisses melted way too quickly compared to the chocolate kisses. They were a hot mess. Tasty, but messy! Next time, I will stick with the chocolate kisses.
The last recipe is the most involved: Peppermint Bark Brownies! Mmmm!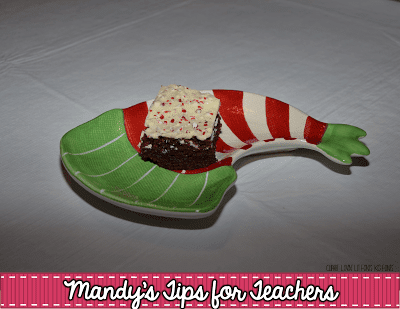 However, it has three ingredients so how hard can it be, right!?!?!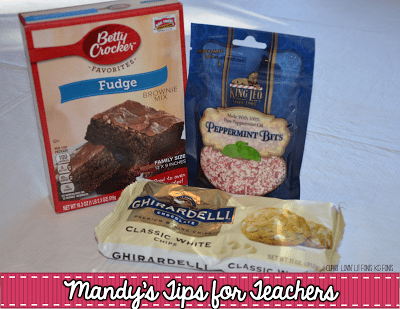 I just made the brownies as directed on the box.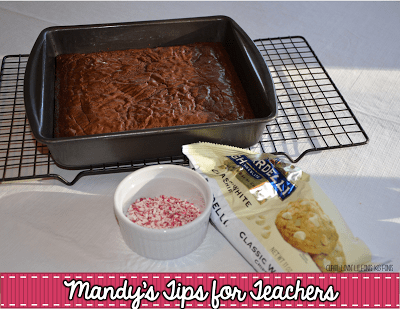 Then, after the brownies cooled I made peppermint bark by melting white chocolate in the microwave and stirring in crushed peppermints. Then, I poured it over the brownies like a frosting. They did take a bit to cool.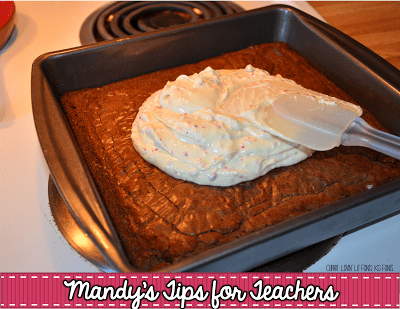 Want a quick printable recipe so you make your own brownies?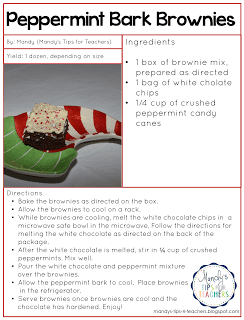 Looking for some more yummy recipes? Check out all these links below!!!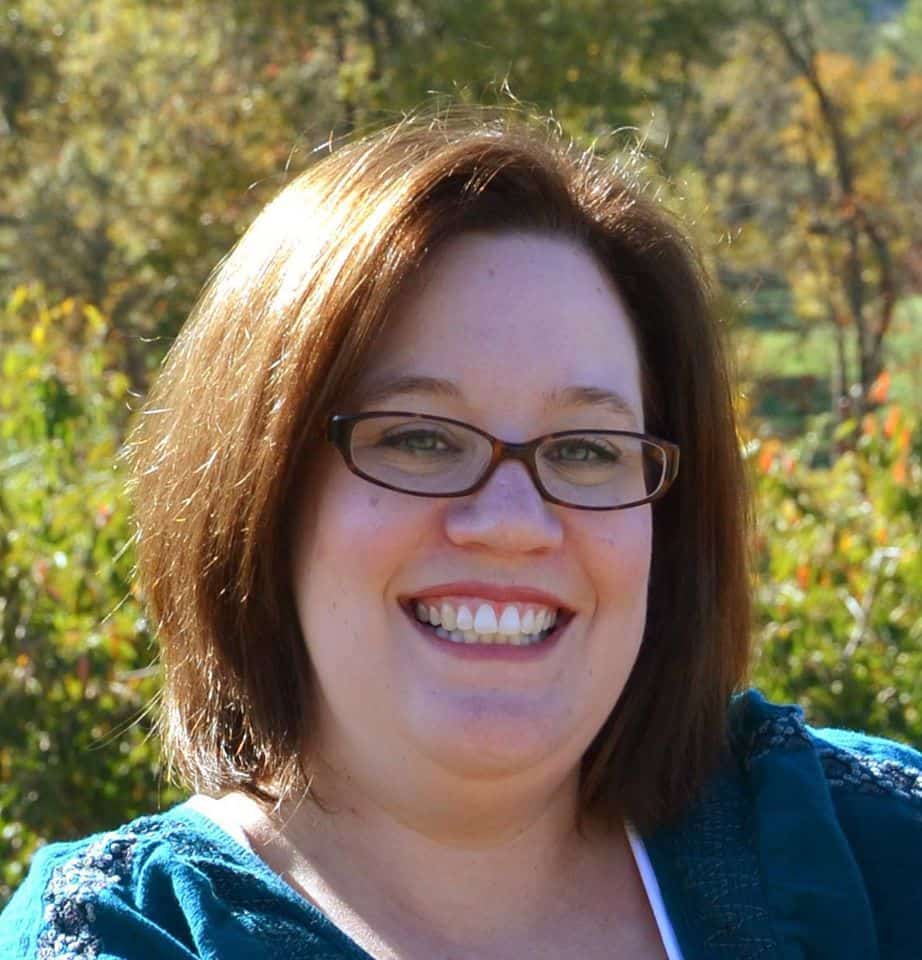 Mandy Gregory is a 2007 and 2012 Teacher of the Year. She has taught 4th, 3rd, and 2nd grade in both the general education and inclusion setting. She is the owner and creator of the Teaching Tips website (www.mandygregory.com) and has over 10 years of experience. She is married with two beautiful children.