This post isn't exactly about getting it organized, but it IS about making it pretty. That counts,right?
My new class has a window. I LOVE it! There is something about just being able to SEE the sun to make me feel better. I think I am one of those people really affected by sunlight and the weather. I would never make it in Alaska.
I wanted a curtain that matched my bulletin boards because it is right next to the boards.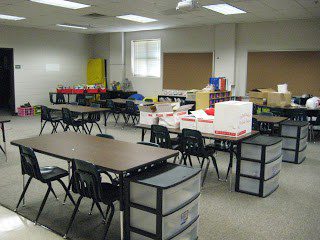 See all that wonderful light…
"The world is dark, and light is precious.
Come closer, dear reader.
You must trust me.
I am telling you a story."
Name that quote from a favorite children's book!
I wanted a curtain, but didn't want to pay the big bucks to buy one. So, I decided to make one myself!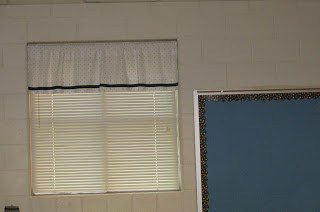 I spend about $5 to make this gem!
I have already shared my
love of flat sheets
as a source of cheap material. They didn't fail me again! I bought a white and blue polka-dot twin sheet that coordinated with my blue bulletin boards. To make the curtain I needed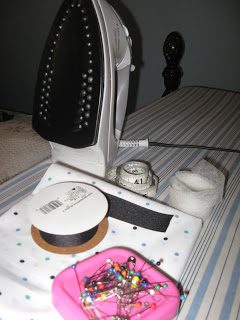 an iron, straight pins, fabric, stitch witchery, measuring tape thingy, and ribbon. I bought the twin sheet at Wal-Mart. I already had the ribbon in my crafting stash. The stitch witchery was actually from my IKEA curtains. IKEA put it with the curtains so the owner could hem them if wanted. I was too lazy for that (curtains pooling on the ground is totally in fashion now…I think), and too cheap to throw it away. So far I have used that tape to hem my daughters Halloween costume and make a curtain. I feel VERY crafty.
I was so proud to whip out the straight pins and measuring tape. My mom is Suzy Homemaker. Literally. She has a degree to teach Home Economics and the whole deal. She can sew, cook, and craft. I am frequently in awe. I, however, missed the whole sewing gene thing, I have all of her stuff, but the last time I used a sewing machine it literally smoked. That sewing machine and I don't have a very good relationship!
Want to make your own cheapo curtain? Here is a tutorial!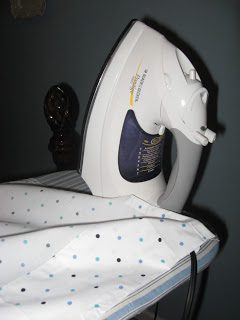 1. To get started, iron the heck out of the sheet and chop of any extra you know you will not use to make it more manageable.
I knew I wanted my curtains to be about 15 inches long or so. Knowing them I trimmed the fabric down to about 24 inches to allow room for errors. Because I do things like that. A lot. Like that cutting was the first mistake. I cut the WIDTH of the sheet- you know so I had the hem that goes up against your chin. To make a fully, gathered curtain I should have used the LENGTH that runs the side of the bed. Eh.
Are you still sure you want to read this tutorial?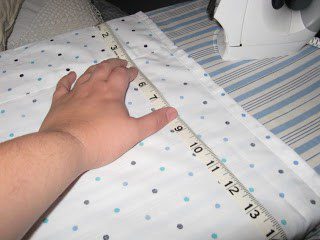 2. Measure how wide you want the curtain to be. I wanted mine to be about 14 1/2 inches. Notice that the already-made, store provided hem (where your chin goes on a bed sheet) is at the top. I did this purposely because I wanted the pretty, store perfect hem to be at the bottom of my curtain when it was hanging instead of my ghetto quick version. After measuring, pin the hem with straight pins. Do this the entire length of the curtain. Make sure to pin midway between the fold and where you cut.
3. Stop and get a drink. Shake it off. Whew this crafty stuff is hard!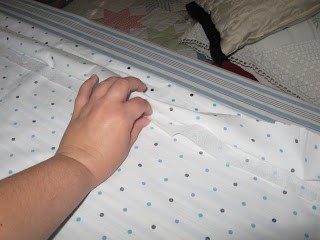 4. Lift up the edge to straight pins and careful lay a strip of stitch witchery between the layers of fabric. See how far that stitch witchery is from the fold? That is on purpose. I was creating a pocket for the tension rod. Lay the fabric down and iron over the stitch witchery. Pull out the straight pins as you iron.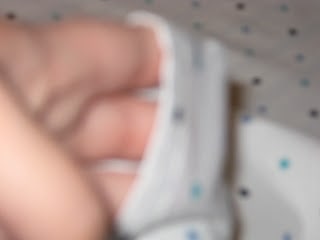 (Sorry for the blurry photo.)
That is a picture of my pocket!
5. Now…go to the kitchen and see if there are any cookies. Get disappointed when there are none and then return upstairs to make the curtain cuter in your frustration.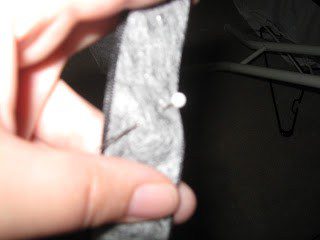 6. Measure out a length of ribbon longer than the curtain. Use straight pins to pin the stitch witchery to the back of the ribbon.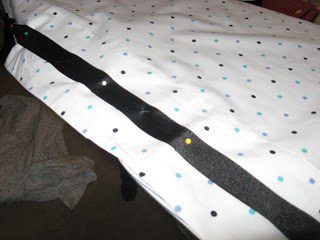 7. Pin the ribbon to the bottom of the curtain. I pinned mine on top of the store made hem (the hem that where your chin goes). I put the ribbon in the middle of the store made hem. Does store made need a hyphen? I have typed it WAAAY too many times to go back and add a hyphen. If it needs one, please just go back and mentally insert one there each time.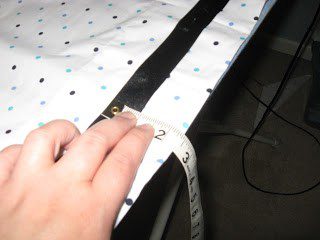 I used a measuring tape to make sure the length from the bottom of the ribbon to the bottom of the fabric was the same every few inches. Iron the ribbon, pulling out the straight pins as you go.
8. Blot your face and go look for more cookies. All that measurement makes me break into sweats.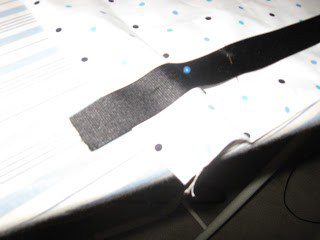 9. I cut the ribbon so that it was slight longer than the curtain. Then I folded the ribbon over and ironed it for a more finished look. On one side- I didn't think of it on the first side. Whoops.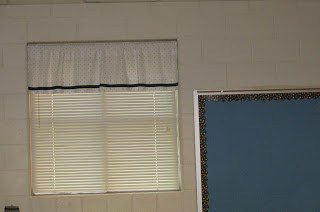 10. Ta-Da! A $5 curtain!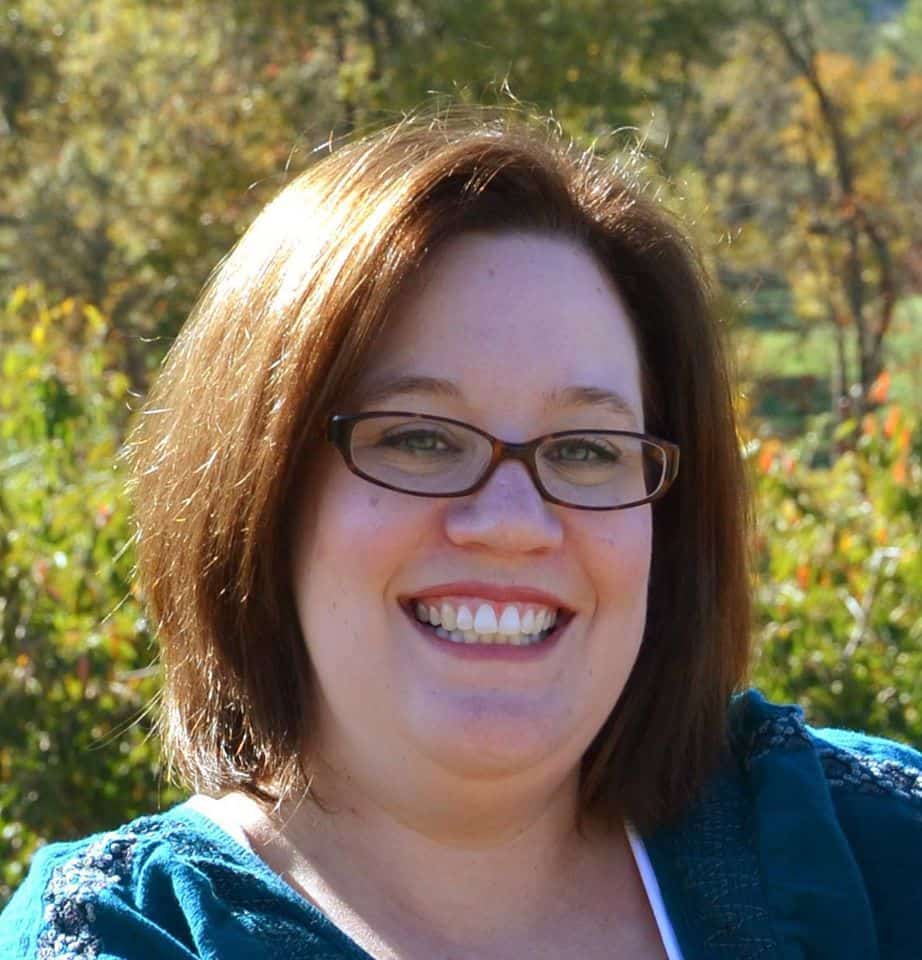 Mandy Gregory is a 2007 and 2012 Teacher of the Year. She has taught 4th, 3rd, and 2nd grade in both the general education and inclusion setting. She is the owner and creator of the Teaching Tips website (www.mandygregory.com) and has over 10 years of experience. She is married with two beautiful children.