…then she makes a lot of work to go with it :).
I feel like this has been a LOOONG time coming. I have been working on this for about 3 weeks or so! I am so glad it is DONE!
I wanted "I Can" statements in kid friendly language that preserved the language of the standards. I know it sounds like an oxymoron, but it is true. I also wanted smaller signs that could travel around the room with me and would be easy to display. So I looked…and couldn't find what I wanted. So I just had to create them!
First, I wanted the standards in kid friendly language, but I wanted to preserve some of the terms so students can speak the language of the standards and understand some of the important vocabulary. Ohh- that smells like a run on sentence! So I wrote it as kid friendly as possible and then bolded in the vocabulary terms I wanted to teach in color. Here is an example: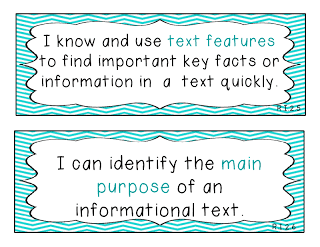 Then I wanted it to be easy to organize so I wrote the standard letters and numbers on the bottom right of each card.
I wanted my display to be usable and not just a waste of space. I teach all around the room so I need a display that can move with me! I took all the cards and then hung them all on rings and then hooked the rings on 3M hooks (love those things!)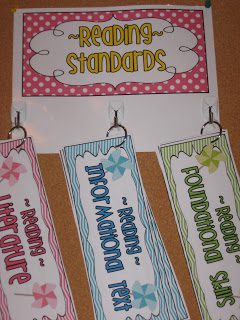 Ta Da! I LOVE them! Now I can grab a ring and explain the standard, show the students and then hang it right back up!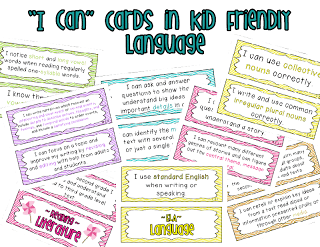 Of course I couldn't stop there. Then I decided I needed a teacher resource list matching up the 'I Can" statement to the actual standard. I thought it would make a great reference list.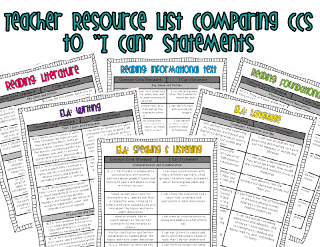 and then I decided I needed some kind of tracking sheet of student progress. I needed it to be editable so I can add as I went. So then I (why does this feel like a whole If You Give a Mouse a Muffin circular story?) created an Excel spread sheet of the standards. The spreadsheet contains the actual standards (not the "I Can" statements).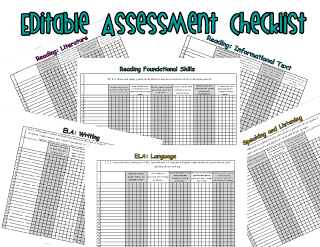 Then I started thinking that Excel is confusing and I hate it. My husband LOVES it so he convinced me to try it. I did grudgingly and realized Excel is…meh. It will do. But I am still not an expert so I needed a cheat sheet with pictures and directions. I like pictures when it comes to directions. The words are just too much!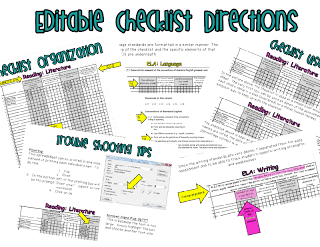 So I made directions on how to use and trouble shoot basic errors when using the spreadsheet (because I made lots at first). And then I got all kinds of frustrated because I had so much "STUFF" now and it wasn't organized. Grrr. So I decided to get on my organizational pants (they are only for special occasions. Heaven knows I need to wear them at my own house. Maybe one day).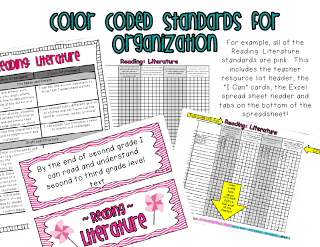 So I got my color coding on. I color coded all the cards so all the Reading: Literature is pink, Reading: Informational Text is blue, Reading: Foundations Skills is green and so on. But that wasn't enough, so all the headings on the Teacher Resource list have headings color coded to match. The headings on the Excel spreadsheet match as well as the tabs on the bottom of the spreadsheet. The tabs on the bottom list the standards on that sheet and are also color coded. I like colors.
And then I realized…crap. This is only ELA. I still have Math to do. Because if you give a teacher Common Core Standards… she is going to make a lot of work to go with it.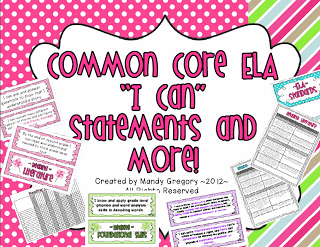 **Edited to Add** I had to laugh at all the comments! I am so glad so many people are excited about these. YES, first and third grade are coming soon! AND so are the math. HOWEVER,I am a bit overwhelmed at the idea of doing the idea of these myself so I will be sharing the duty with another favorite blogger, Britney. She is working on the first grade version and I am working on the third grade version. As soon as both are ready, we will post them!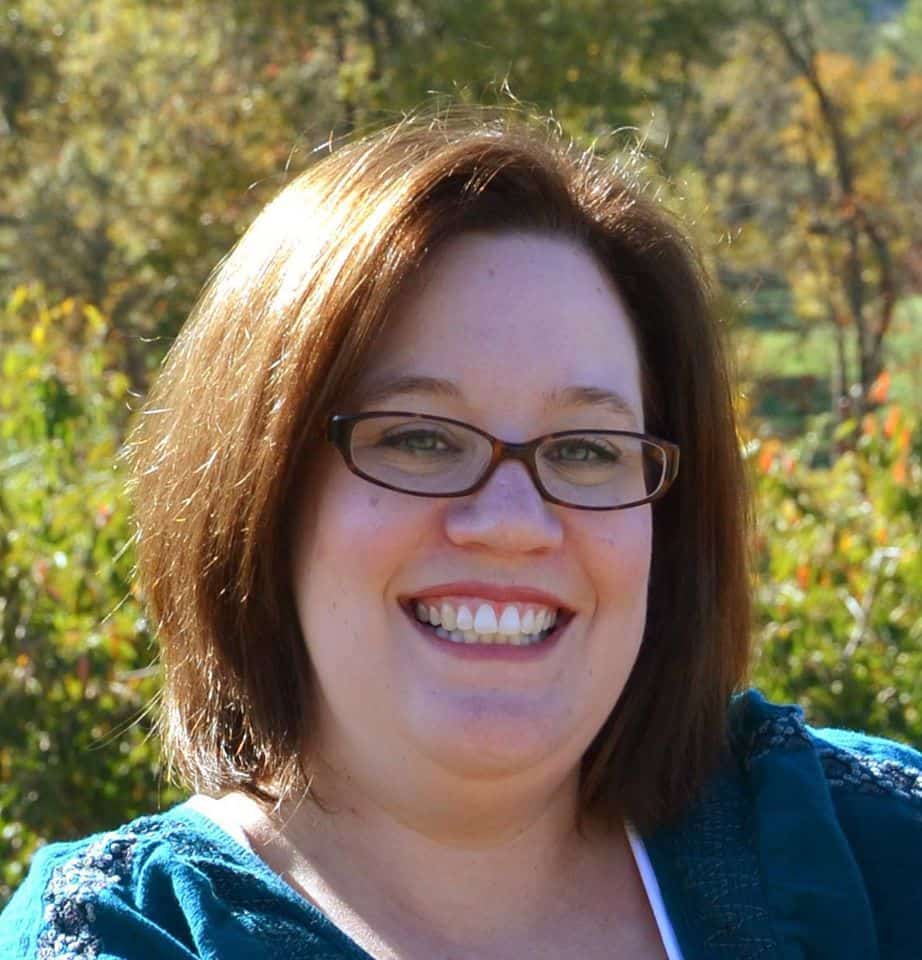 Mandy Gregory is a 2007 and 2012 Teacher of the Year. She has taught 4th, 3rd, and 2nd grade in both the general education and inclusion setting. She is the owner and creator of the Teaching Tips website (www.mandygregory.com) and has over 10 years of experience. She is married with two beautiful children.