In Georgia we have study specific historical figures as part of our Social Studies curriculum In some ways, I find them pretty difficulty and tedious to teach because they are removed for the historical context of the very events that made them famous- we aren't studying Martin Luther King and the Civil Rights movement in the 1960's. Just Martin Luther King Jr. I think this is because in 4th and 5th grade many of these figures are covered in context, but it can make teaching a bit…um, boring.
But the strangest thing? My kids LOVE them? They love diving into a person's life and finding out how and why they were important to Georgia. It boggles my mind! And it is like that with.every.group.of.of.kids.every.year! Who woulda thunk it?!
One of our last historical figures to study this school year is Jimmy Carter. Well, Jimmy Carter is interesting, but very difficult to find information about that is second grade appropriate! I created this 46 page packet to supplement my curriculum!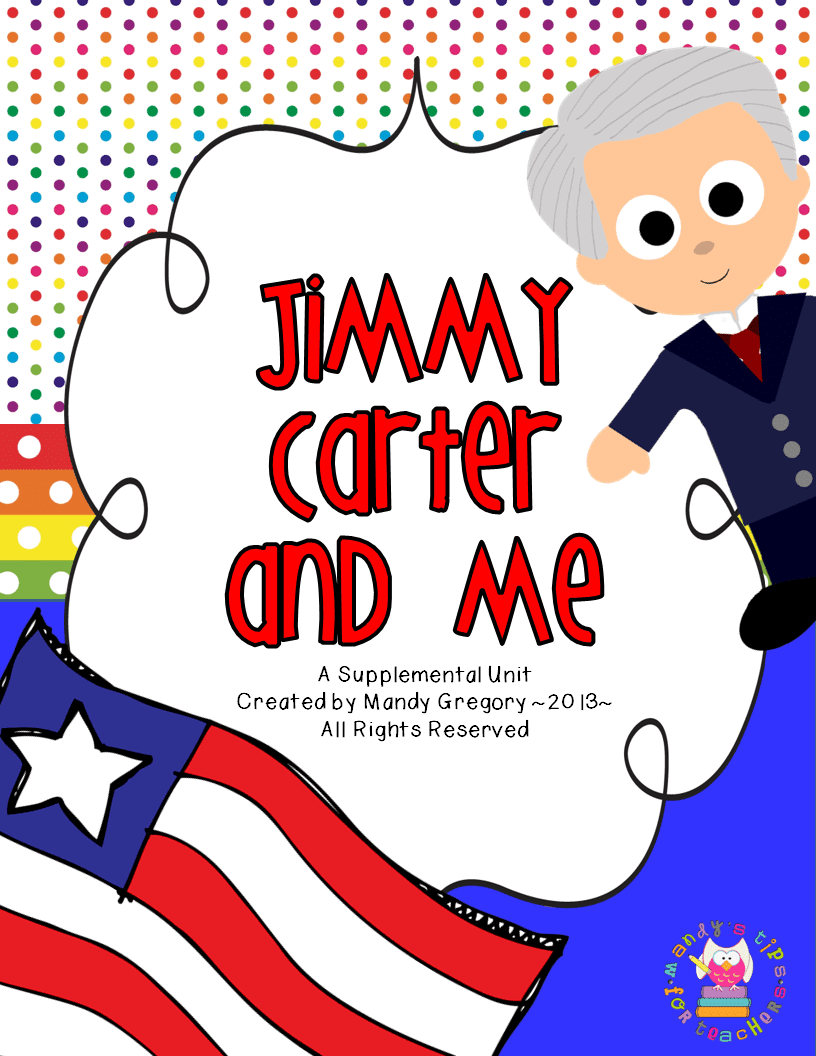 The packet includes: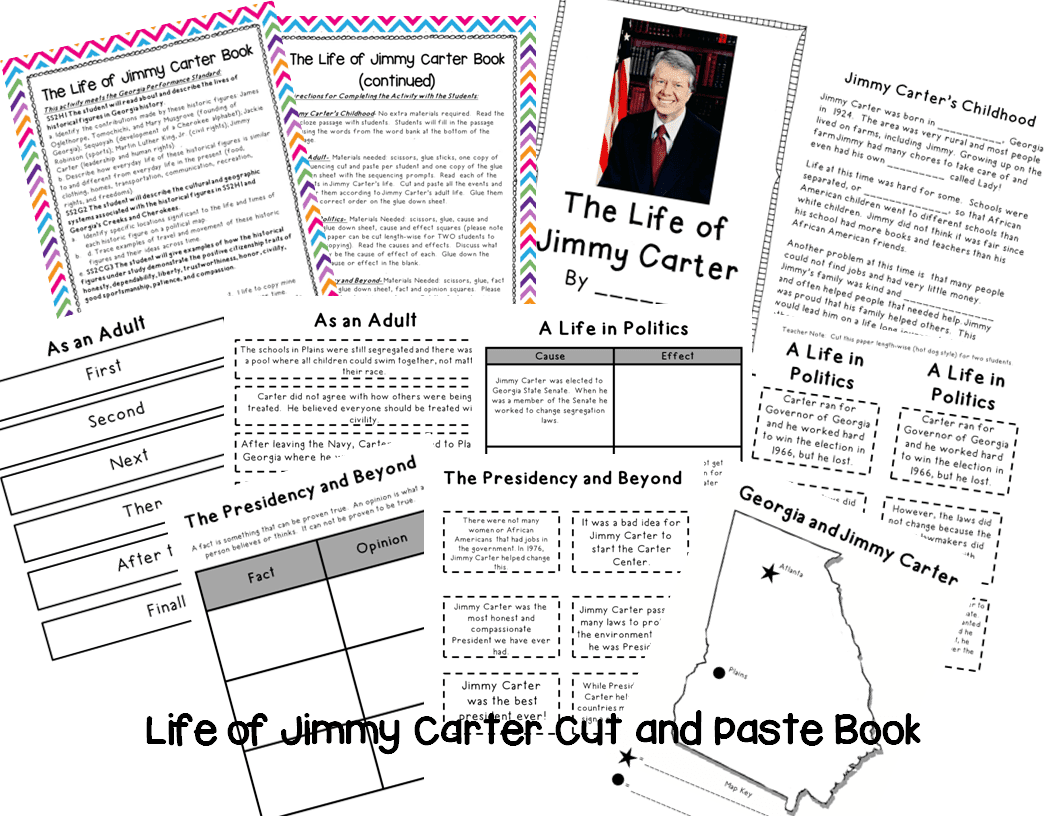 The Life of Jimmy
Carter Book- A 6 page book that covers the life of Jimmy Carter from
childhood to his presidency. This book
includes several cut and paste activities that support reading skills such as
sequencing, cause and effect, and fact and opinion. An answer key is included for each page. In
my class, I print the pages as a booklet and staple the pages together.
Contributions and
Character Traits Flip Flap Book- This is a three flap book that gives
students additional exposure to the terms civility, compassion, and honesty.
Students create the flip flap book and glue down the definition of each word
and then match examples of how Jimmy Carter exhibited each trait. An answer key is included.
Jimmy Carter Matching Game- This is a simple 12 card matching game. Students match questions about Jimmy Carter to the card with the correct answer. An answer key is included.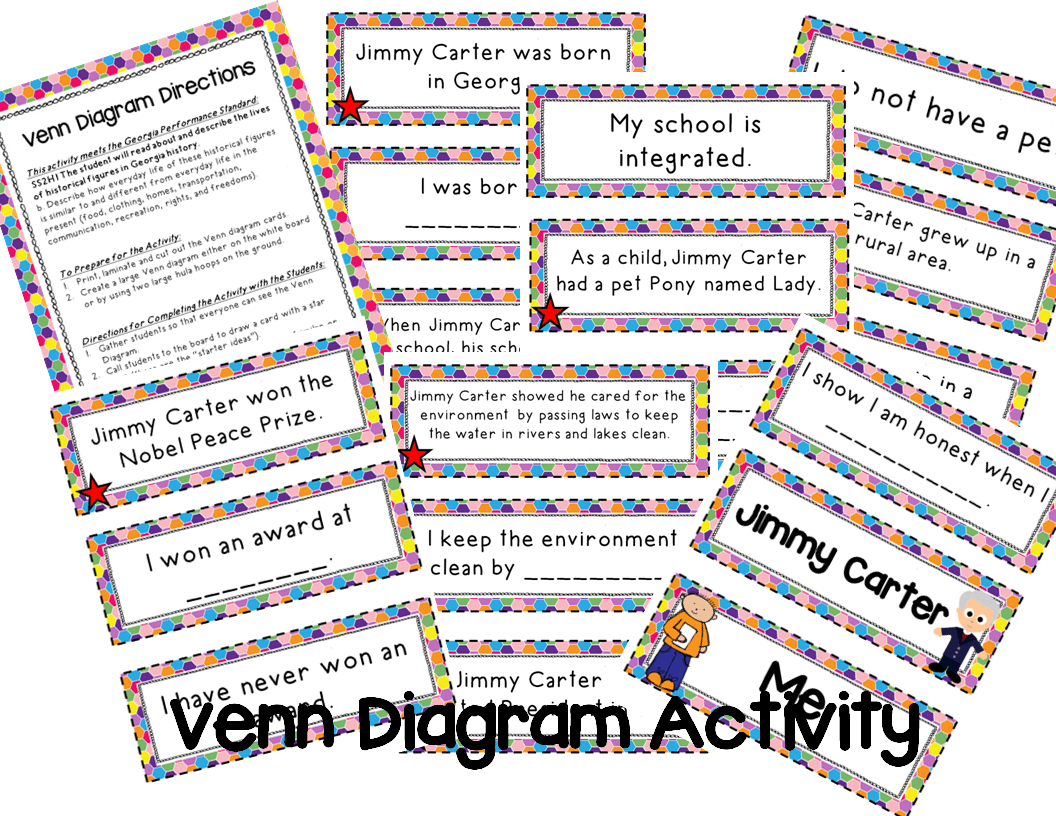 Jimmy Carter Venn
Diagram- This is a whole group activity. Students use the cards to create a Venn
Diagram comparing Jimmy Carter to themselves.
This can be taped to the white board or on the floor using two hula
hoops. The teacher can start this
activity with students to model how to compare a historical figure to
themselves and then students can finish independently or in partnerships on the
Venn diagram worksheet.
http://www.teacherspayteachers.com/Product/Jimmy-Carter-and-Me-A-Supplemental-Unit
Jimmy Carter Reader's
Theater- This is a 22
part reader's theater written to review
the life and contributions of Jimmy Carter.
This would be an excellent review for the assessment.
Jimmy Carter
Assessment- Simple assessment that has questions about the life of
Jimmy Carter, his contributions, and the meaning of the words honesty,
compassion, and civility. An answer key
is included.
I will be giving away a copy of EITHER
Jimmy Carter and Me
or the
Garden of Affixes Craftivity
from yesterday to TWO lucky winners! The winner will chose which packet they prefer. To enter simply leave your email address below. Winner will be announced Friday, May 3rd after 8:00 pm! I will be doing the SAME giveaway on my
Facebook page
, so make sure to hop over there to double your chances!!!
Georgia teachers: Is the Jimmy Carter packet something you would like to see with all the other historical figures? Which figure(s) do you need activities for the most? Should I make more of these things? Thanks!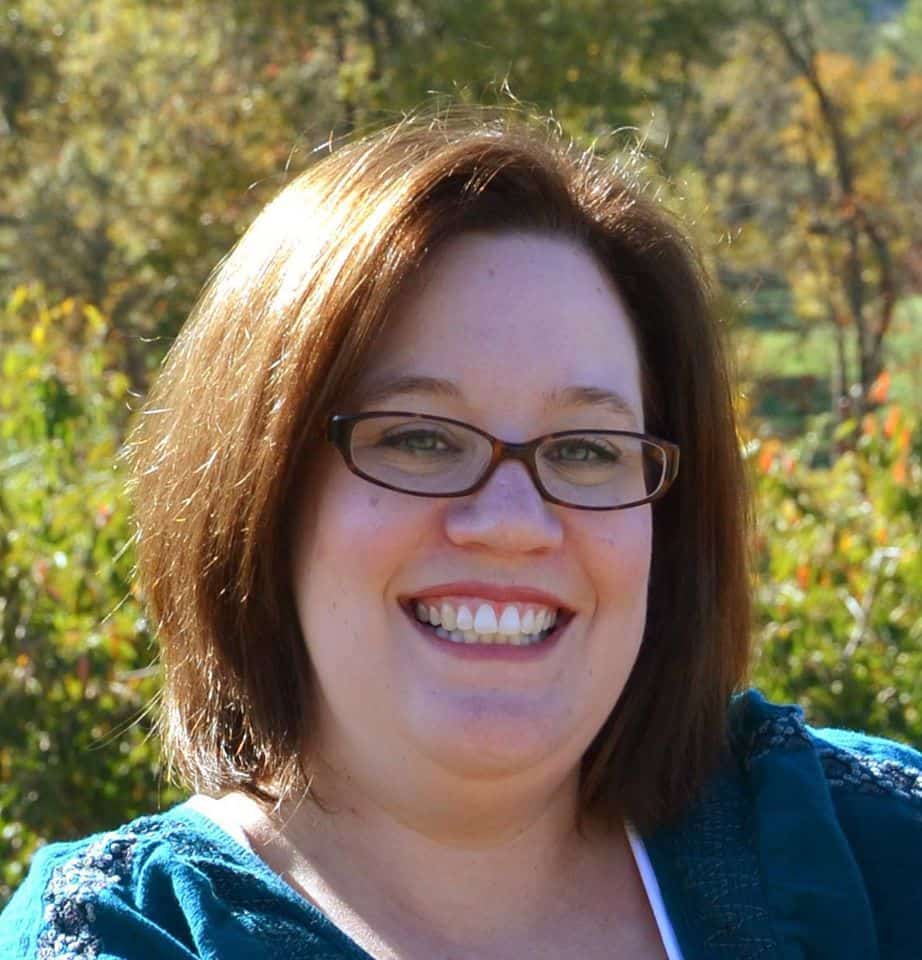 Mandy Gregory is a 2007 and 2012 Teacher of the Year. She has taught 4th, 3rd, and 2nd grade in both the general education and inclusion setting. She is the owner and creator of the Teaching Tips website (www.mandygregory.com) and has over 10 years of experience. She is married with two beautiful children.