This year we decided to make the move to second grade…and to tables instead of groups of desks. I used tables years ago in fourth grade when we team taught, but had my father build a large cubby system. I didn't want to have to build it again since I sold it off years ago.
Dandelions and Dragonflies uses the cheap black bookshelves from Wal-Mart for each table group. I loved the clean lines and appearance. And the price tag- it was much cheaper than the lumber and time and patience required from my fabulous father or husband to build cubbies!!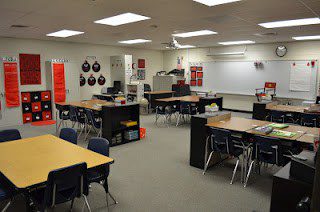 PLEASE do not pin this picture from my blog since it is not mine :(. Please click here and pin it directly from Jessica's blog post. It will drive traffic to the rightful place. Trust me, you must see the other pictures anyway ( and pin) since her WHOLE classroom is so STINKIN' cute.
I had every intention of totally copying her fantastic idea and using it as storage for each table group. But when I was at Wal-Mart I saw these bad boys.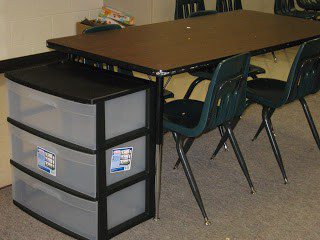 These were $3 more when I compared the prices of the drawers verses shelves. A total of $15 more for a set of 5 for my classroom. I decided the $15 was worth my dear husband's time since I am a total stooge when it comes to putting things together. I feel like the confused IKEA man at all times when trying to put together cheap furniture. Ya'll know him?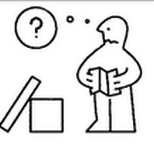 So I invested in these guys. I won't lie. It wasn't exactly cheap at $18 a pop. So far, two whole weeks into school, they have worked like a charm!
Here is how we are using them.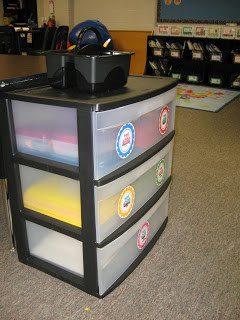 Here is a direct full on view.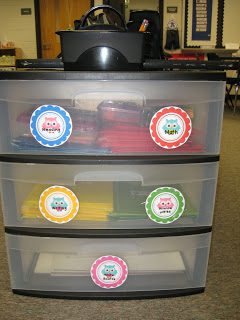 Here you can see the method to my madness/ slightly control freakish thing appear. If you look closely on each drawer are two subject labels with a different colored border around it. For example on the top is a blue circle labeled reading and a red circle labeled math.
Inside this drawer on the left side behind the the reading label are the students' blue reading folders and on the right side behind the red math label are the students' red math labels. I know. I am little crazy. All the drawers in the classroom are labeled the same it is makes it SO EASY to tell the table captain to take out their red math folders and pass them out.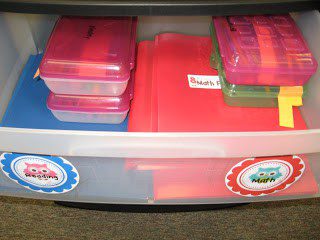 The students keep their individual supplies in school boxes (I am not sure if I am crazy about these- I am reserving my judgement until I have a bit more time with them) in the top drawer. The yellow strips hanging out our positive behavior system- The Golden Ticket. Straight from the brilliant Teeny Tiny Teacher! No judgement reserved there- LOVE it!
Here is a lovely, organized middle drawer. If you zoom in you can tell that the folder labels are ALSO color coded. It is a sickness, people.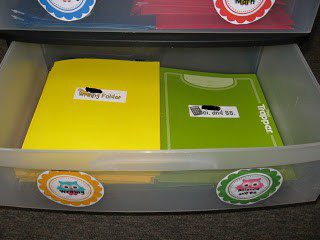 The bottom drawer is a bit different. We were out of folders, but not drawers so I had to come up with something. So we decided to put a table set of white boards in there!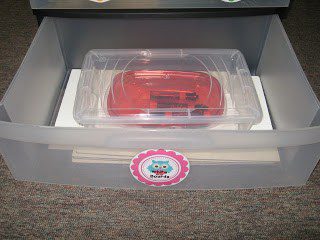 Inside the drawer is 5 white boards and a clear shoe box. In the clear shoe box is 5 really cheap white wash cloths from Wal-Mart. We use these as erasers. The last forever and are easy to take home and throw in the washer (if I ever remember to do that. I think I only did it once or twice with my old ones!). Inside the shoe box is also a large plastic Tupperware container with 5 black markers. ONLY black. No fighting-over-other-colors black. Can you tell I made the mistake of having different colors available at one time?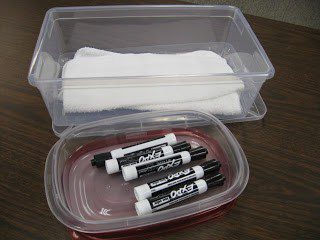 If you have managed to read this picture heavy post, I have a treat for you! If you would like the owl supply labels, please click on the picture!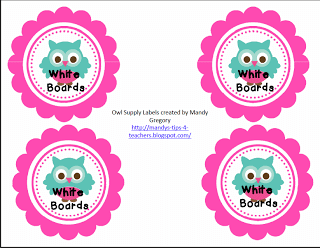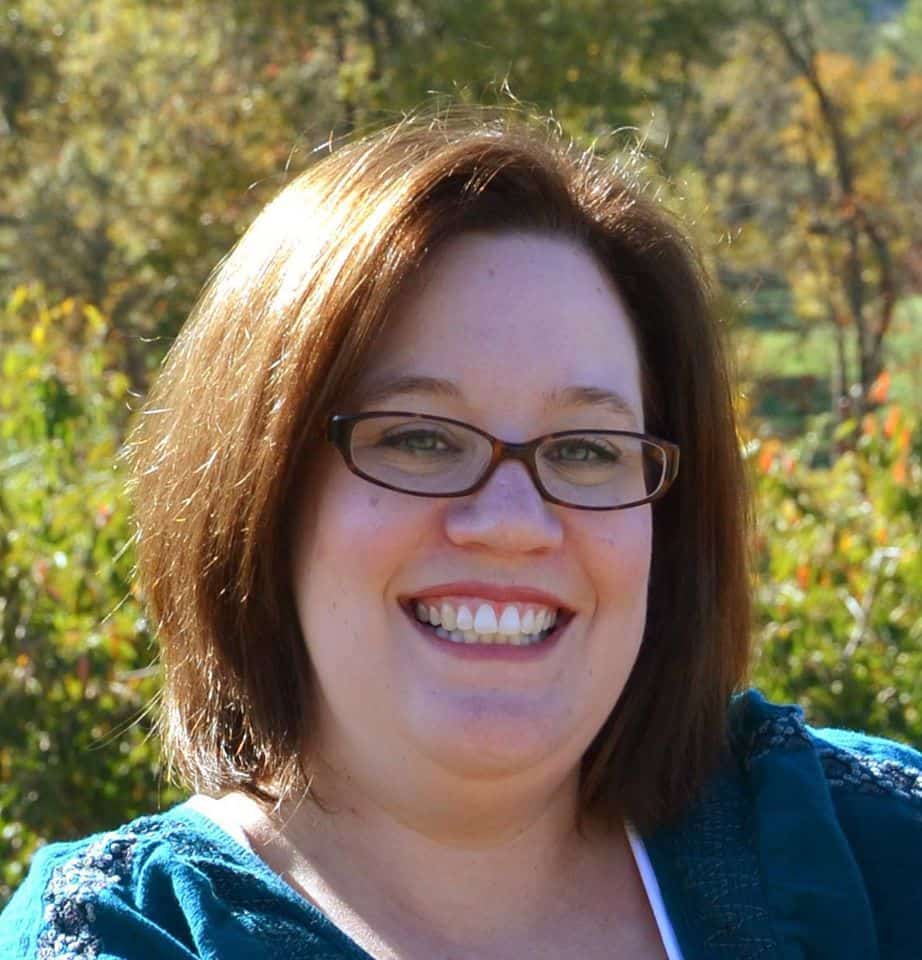 Mandy Gregory is a 2007 and 2012 Teacher of the Year. She has taught 4th, 3rd, and 2nd grade in both the general education and inclusion setting. She is the owner and creator of the Teaching Tips website (www.mandygregory.com) and has over 10 years of experience. She is married with two beautiful children.