I am so excited to be linking up with Meghan again at Keeping Up with Mrs. Harris! You might find it a *bit* ironic that I am sharing all about how I get organized…when I can't even get the post up on the correct day? Mmmhhh.
Story of my life. Right here!
A day late, and a dollar short, but ready to celebrate!
I actually DO try to organize myself. Sometimes is just happens more effectively than others. I am not a traditional planner kinda gal. I rarely look at them, because you have to go to all the trouble to open the cover and turn pages and such.
Instead, I have a much more complicated system. 😉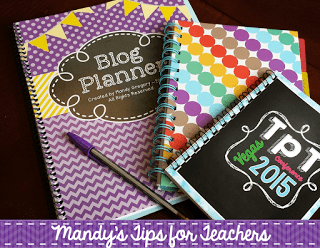 This week is a bit unusual because I am heading out to Vegas. In fact, I am writing this post up while hanging out in my beautiful hotel room. Nice, right?
I used all the notebooks above to get my act in gear.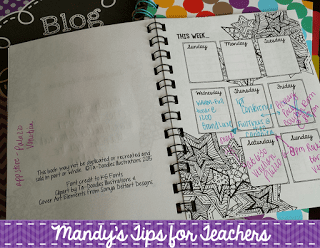 I purchased this adorable
planner and organizer
for the Vegas conference from Ta-Doodles Illustrations. It is perfect for keeping all the meet ups and sessions straight. There is so much going on that it is easy to over commit or miss something. And I don't want to miss anything. I went ahead and filled it out for all the events I had already committed to. This page is perfect to help me see "the big picture."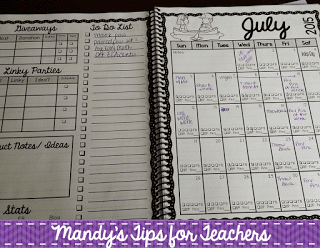 I am using my
blog planner
to help me get my thoughts together. So far I LOVE it! That PLUS I would be out of town meant some organizing. Since it was the beginning of month AND the conference, I had to make a plan for my blog. I like to think about blog posts for the month and pencil in events. I tried to outline some posts, so you can get a sneak peek! There are still a whole bunch of empty spots, so let me know if there is something specific you want to read about! LOL! I can make it happen- just look at that schedule!!!
I also made a list of all the things I want to accomplish. So many things, so little time. Sigh.
Now, it is time to get personal :).
I have this super cute notebook I bought from Wal-Mart for about $2. It is a nice size and can easily fit in my bag. I took some post it tabs that are from Wal-Mart and used them to create dividers in the notebook.
One tab is to do, another grocery, another diet, and the last is other. I use pretty much every section except the diet section. I need to get on that. 🙂
In the to do section I make a weekly docket. This helps me visualize all the things I have going on for the week. Writing them down helps me remember. I can also add in any errands I want to run on that day or goals to accomplish. The weeks I do this I am so much more productive. Then, I can tear it out of the notebook and hang it on the fridge so I can't miss it.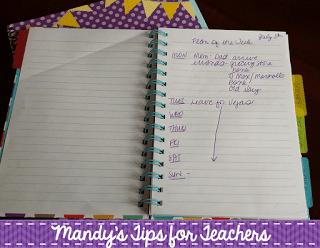 In the grocery section I try to write my meal plan for the week and write up a corresponding grocery list. This week is kids friendly fare because the cook is on vacation ;). Processed orange food one? It is all below!!! Yummy kid cuisine!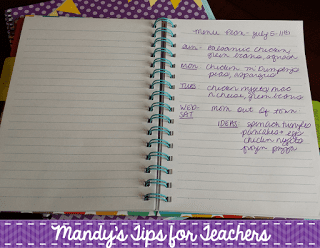 I also then try to write up a to do list for the week. I love crossing things off. It is my happy place!
I love this notebook method because it travels well and I can tear the page out and hang it on the fridge. I love my fridge.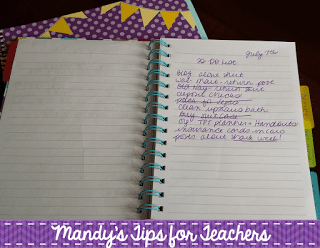 After I figure out the menu, I write it on the chalkboard in the kitchen so the hubby can see it.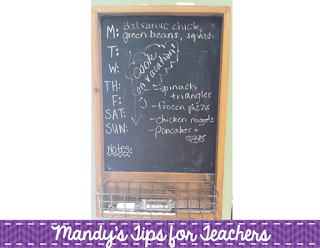 So, that is a lot work for one week. Maybe that it why I am two days late with this post!?!?!!??!
Want to check out more awesome planning posts?
document.write(");
<!– end InLinkz script —>
Also, there is a giveaway! Yahoo! Not just one, but TWO and one is my planner from above!
a Rafflecopter giveaway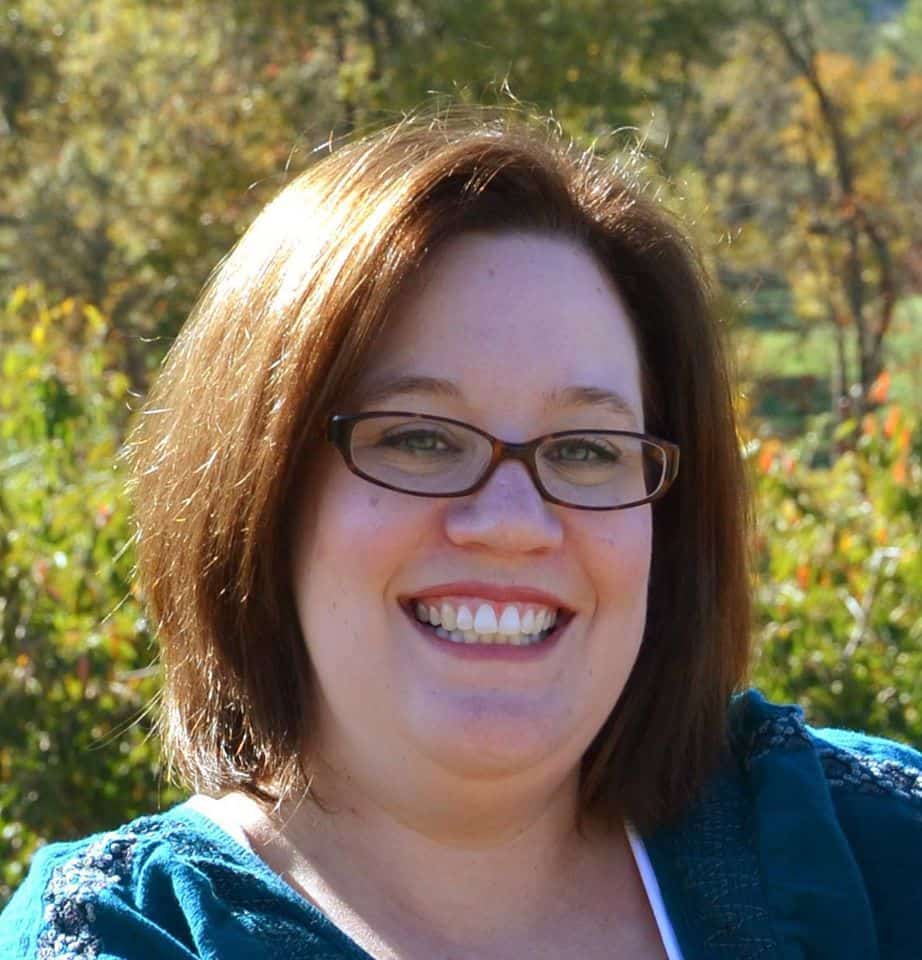 Mandy Gregory is a 2007 and 2012 Teacher of the Year. She has taught 4th, 3rd, and 2nd grade in both the general education and inclusion setting. She is the owner and creator of the Teaching Tips website (www.mandygregory.com) and has over 10 years of experience. She is married with two beautiful children.