March is that crazy time of the year for us. We take our high stakes, standardized test in the beginning of April (the week after Spring Break). In Georgia we take the CRCT. Third graders are required to pass the reading portion of the CRCT. There are a total of five sections: Reading, ELA, Math, Social Studies and Science. This is about the time the kids start day dreaming of being outside and "check-out" of the class room and teachers I we start freaking out knowing that the BIG DAY is near.
I like to think of this time as time for our "Hail Mary" pass during the big game. As a general rule we touch on test taking skills, but do not spend large amount of time teaching them. I do have the philosophy that good teaching and learning= good results on test scores. Students will apply what we teach them. HOWEVER, I do feel it is unfair if they are never exposed to the FORMAT of testing because I feel that formatting can make a huge (and unfair) impact on test scores if students do not understand what they are being asked to do.
We review with several different methods. One of my favorite (and easiest methods) is the game Scoot. I would bet many teachers are familiar with this activity. I am pretty sure that I found the idea on Proteacher originally.
To prepare this activity, I use task cards from
this master list
. Unseen01 on Proteacher was generous enough to compile (and update) this list of all the task cards shared FREE on Proteacher. In order to access the test cards, you DO have to be a Proteacher member, BUT it is free to join. The site is a FANTASTIC resource so I highly recommend joining.
Then, to play the game students sit at their desks. Give each child a recording sheet and ONE task card. (Tip- pass out the cards in numerical order) Students then answer that card question is the spot next to the correct number. For example, if a student is give task card #6, then the student writes the answer in the spot for problem 6. Then the students turn the card over and check their answer. When the teacher says "Scoot," the students take a pencil and paper (but not the task card- it stays on the desk) and move to the next desk and answer the question. To make it easier, I assign the order students move and then the students to always "follow" this person.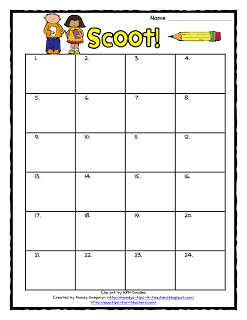 To prepare the game I make copies of the cards on cardstock, cut them out and write the answers on the back of the cards and I number the front (one number per card). Then I laminate the cards so I can use them again. I make a class set of the recording sheet, and I am ready to go! Click
here
for a copy of the recording sheet!
I will also be doing some hard – core review in math. I will be using is tic-tac-toe games from my
Teachers Pay Teachers Store
. I really like the tic-tac-toe games because they are almost all in word problem format and these will be big on THE TEST. To make the activity even more beneficial, I am trying something new!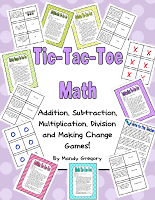 I made all of the tic-tac-to games. Then I added a small sticker next to the answer. Each tic-tac-toe set got a different sticker. For example the subtraction problems got a small frog, the addition a green heart, and the division a green heart. Here is an example: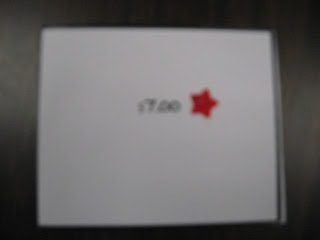 Sorry the picture is so blurry- I couldn't get my camera to focus : (.
Now, when it is time to practice word problems, I will use my tic-tac-toe math games, BUT I will MIX them all together so students have to figure out the correct operation and THEN solve. When we finish playing, it will be easy to resort them into the correct games because of the sticker! The
bundled Math Tic-Tac-Toe games
have addition, subtraction, multiplication, division and making change problems. I also have just released the
PerimeterTic-Tac-Toe game
and the Area Tic-Tac-Toe will be released this week! Each game is $2.00. I thought many teachers would like to use the bundled Math Tic-Tac-Toe games so I have put it on sale!! It would cost $10 to buy the games separately, but they are on sale for $8! Unfortunately, the Perimeter Tic-Tac-Toe is not part of the bundled set- I am hoping to create a second bundled set soon with more concepts! Click
here
if you would like to see the Math Tic-Tac-Toe Games!
If you would prefer to mix and matct your own games are are direct links to the individual games. They are $2 each.
Addition
Subtraction
Multiplication
Division
Making Change
Perimeter
I have tons of other things to write about test prep, BUT I am out of time and energy! I will continue this post.
I also have an English/ Language Arts power point I use that covers everything a third grade needs to know (pretty much). I am working on it and will put it up for sale on Teachers Pay teachers sometime in the VERY near future. I also have a specific way to teach answer reading comprehension questions that I will share soon as well.
Is there anything that you want to see about test prep? Questions? Bueller? Bueller?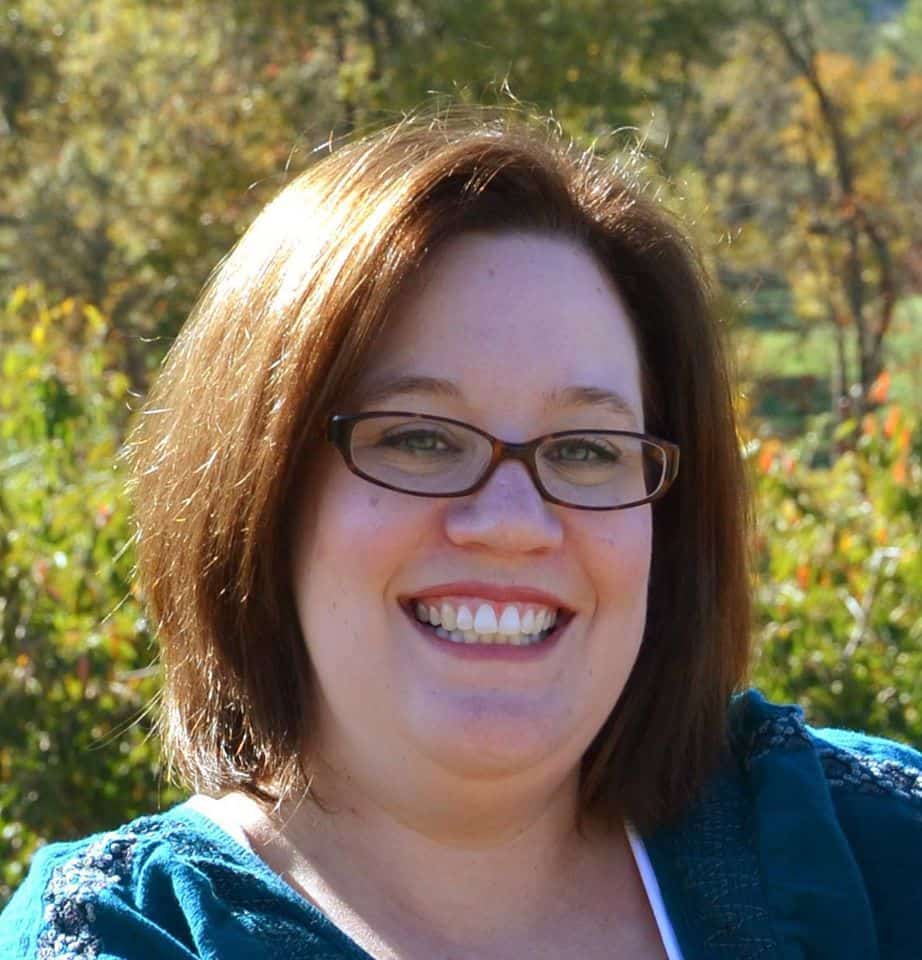 Mandy Gregory is a 2007 and 2012 Teacher of the Year. She has taught 4th, 3rd, and 2nd grade in both the general education and inclusion setting. She is the owner and creator of the Teaching Tips website (www.mandygregory.com) and has over 10 years of experience. She is married with two beautiful children.