Let's talk planning.  Does it take you absolutely forever? I found that even after teaching several years and utilizing TpT, I still spent a long time planning. Partly because I had to meet specific requirements for my district or admin. More often than not, it was because I truly wasn't efficient with my time. So, how can you simplify your lesson planning and be as efficient as possible?
Get Ahead of the Game
One way that you can do this is to make sure you have all your lesson plans done before the Monday you teach! Some weeks I was better at this than others.  Life happens, right?!?! I tried to have mine done the Wednesday before. This gave me time to prep any material and let me share with any support staff. I will be honest, this is a perfect world and I didn't have it done every week, but I did try.
Consider a Planning Routine
I had a friend that was organized to a "T." She really was a wonder.  She broke down her planning daily.  On Mondays she planned for the next week of reading, on Tuesday the next week of math, and so on through the week.  It worked for her.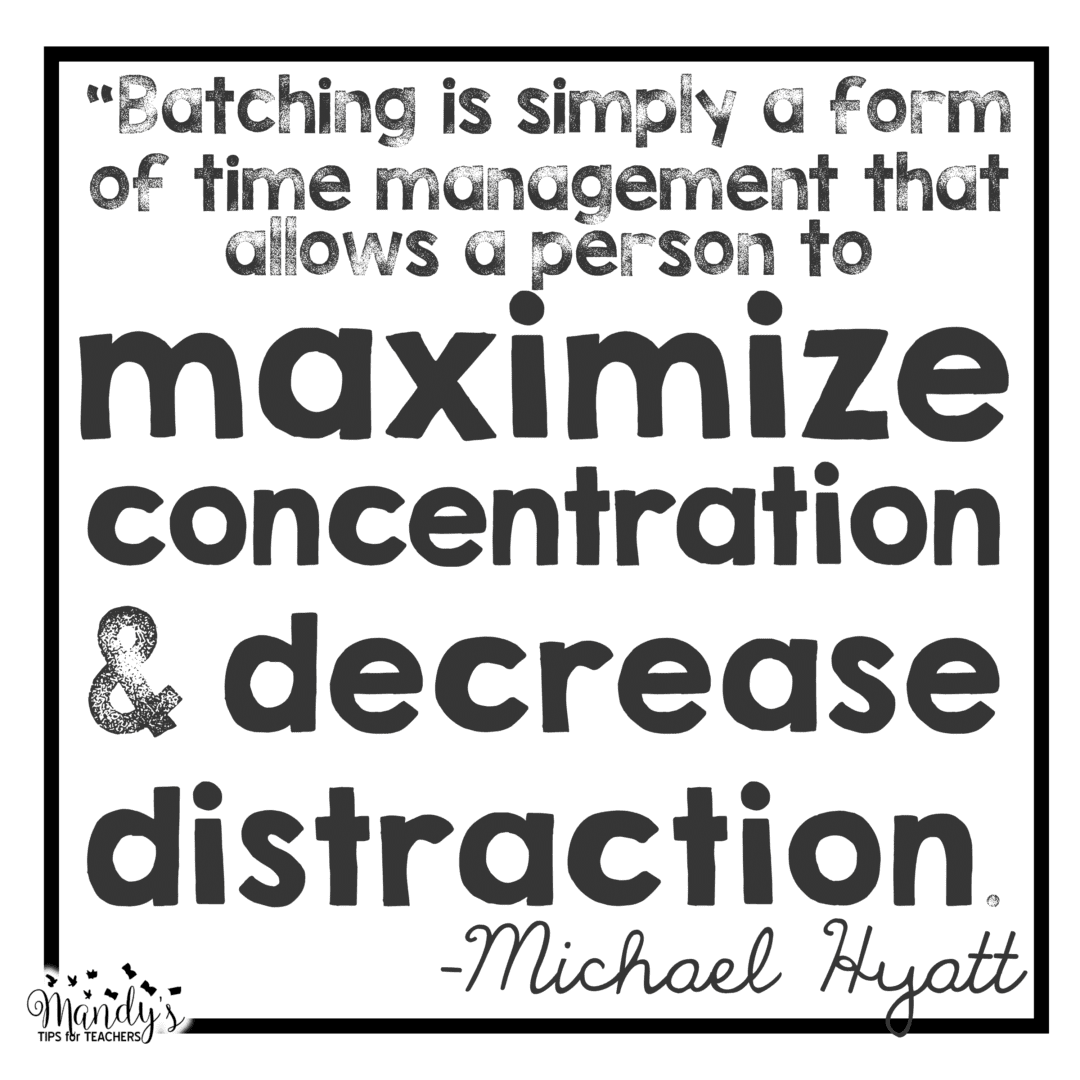 I will be honest, I was never that organized.  I also had a really hard time visualizing where I would be next week on Monday. Instead, my co-teacher and I had a plan to have our lessons done by Wednesday or Thursday.  This naturally led to the following schedule. Unknowing, this is actually a pretty effective strategy. Many organizational gurus actual suggest this strategy and call it "batching" tasks (doing several of the same tasks).  Who knew!??!
Monday:
Work on the newsletter and gather homework for the following week (We sent home homework weekly.)
Grade
All that random paperwork that builds up (RTI, IEP, and EIP)
Tuesday
Meetings (Usually once per week for the entire school)
Grade
All that random paperwork that builds up (RTI, IEP, and EIP)
Wednesday
Thursday
Lesson Plan for next week
Pull materials for lesson and/ or make materials for the next week
Finalize newsletter for the next week
Friday
Copy all materials for the next week. We were lucky and had a "copy mom" that volunteered once a week and made our copies for us! It was AMAZING!
Use Planning Templates
Templates can really make planning SO much easier! We were required to use an online plan book for our lesson plans.  However, any small group plans could be hand written (thankfully!). I created templates for both of these just to make it a bit easier and have a routine in my planning.
Over the years, I have had several different plans for guided reading, depending on my needs (or the school).
This guided reading lesson was developed to meet all the requirements of my school.  It is also perfect for someone that is still uncomfortable for guided reading.  It takes you step by step, but still allows for some open ended planning. This is part of my Guide to Guided Reading pack.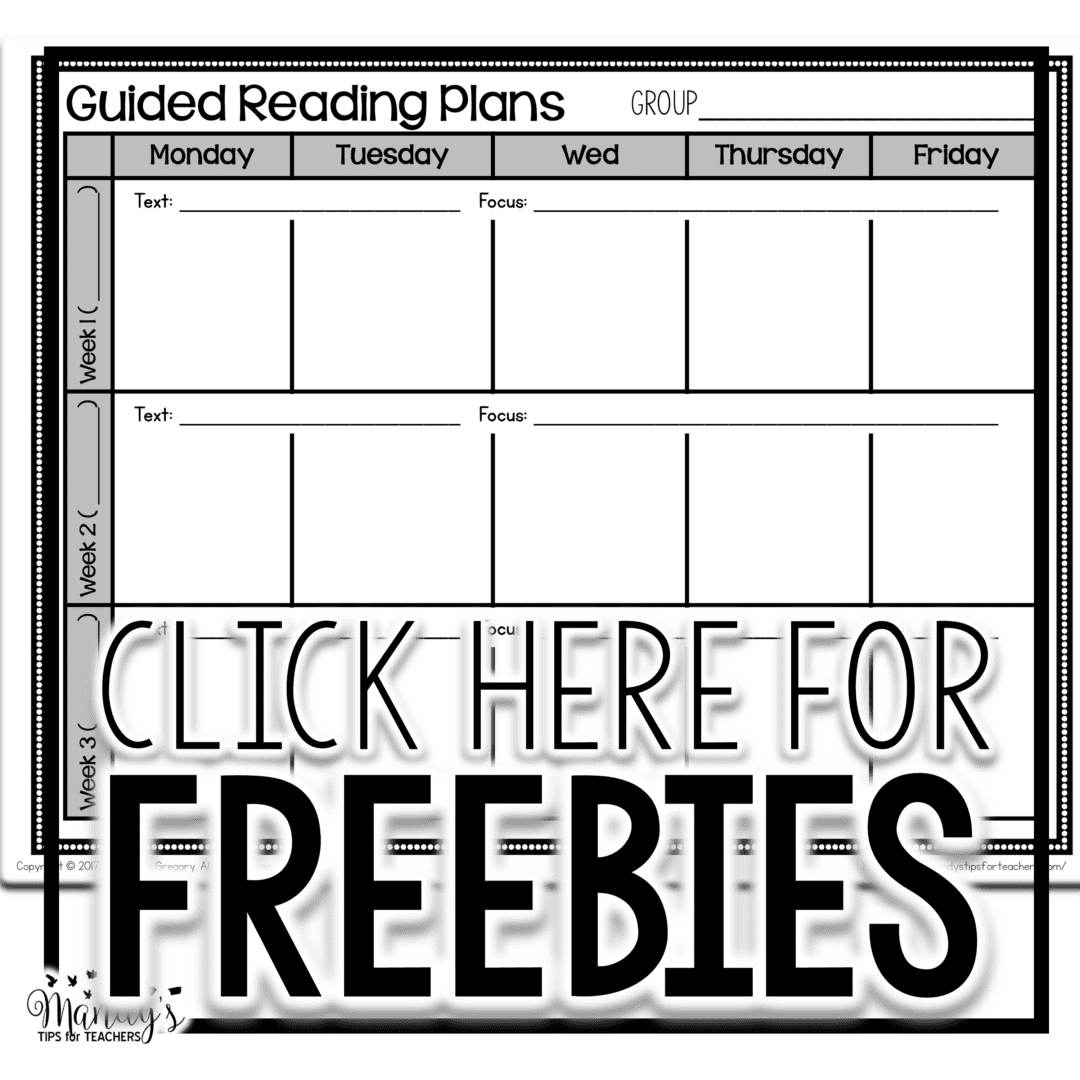 I developed this for a friend who has been teaching for several years and is very comfortable with guided reading.  These plans are VERY open ended, because she knows exactly what she wants and where she is going. She wanted to have several weeks of plans for ONE group on a page. It also helps because she is planning for about three weeks at a time.  This allows her to think of where she is going in the "long run" and how to naturally build on concepts.  Three weeks fit perfectly on a page.  Also about every 4 weeks is a great time to reevaluate your second grade readers to see if they have grown a level.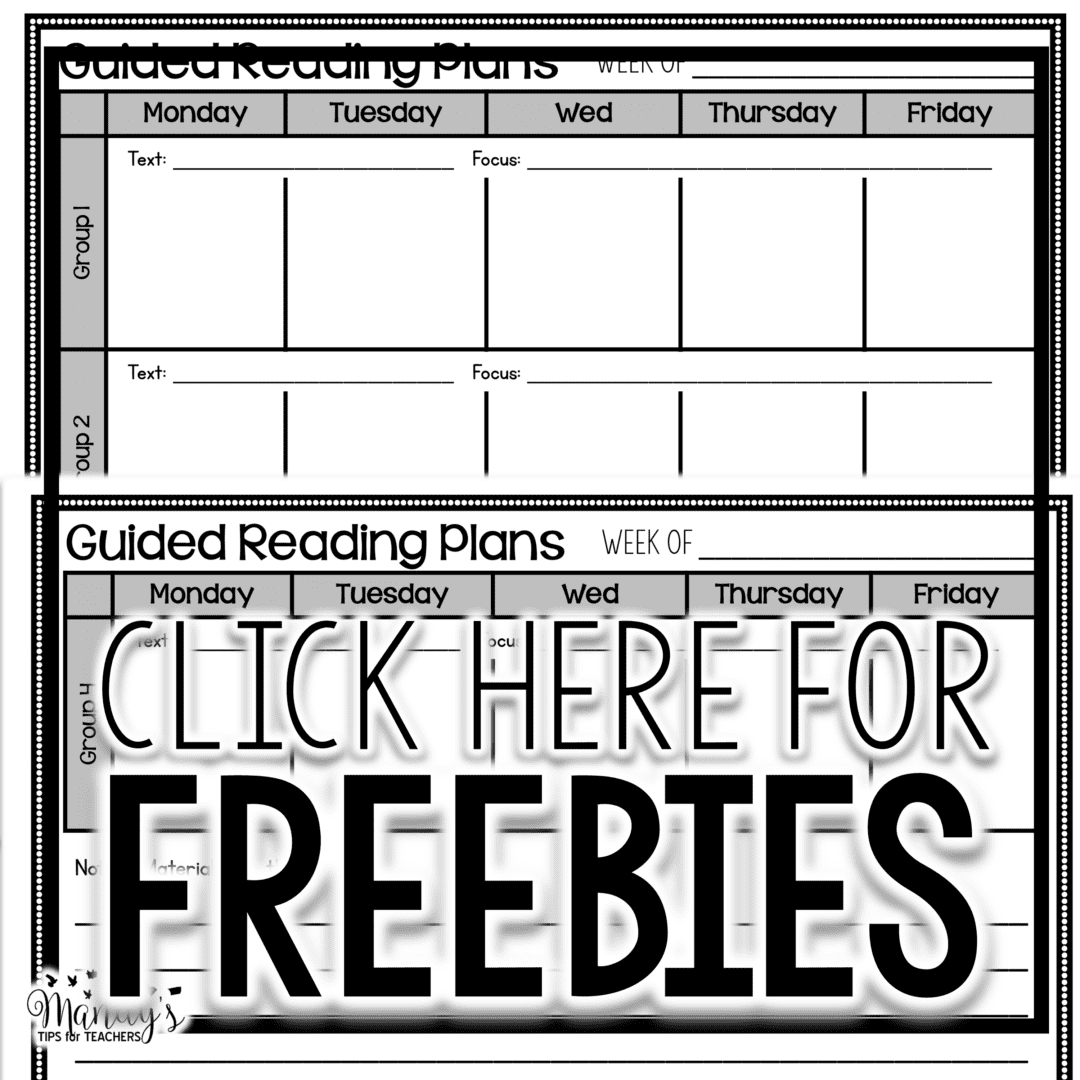 She wanted me to develop another planning page for her, because she wasn't sure which she would prefer and wanted options.  I got it.  This girl likes options, too! LOL!  This template has ALL her guided reading groups plans for ONE week on a spread of two pages. Some years she has four groups, and others she has five groups.  So, I made both! Click on the picture to download this template FREE! There is a version that includes four reading groups or five reading groups!
So what if you are not comfortable at ALL with planning for guided reading?  I have you covered! You may want to check out my program Mastering Guided Reading.  It has all the printable books AND detailed lesson plans for guided reading.  The printable books are differentiated and have 4 different levels to meet all the needs in your classroom. Want to try it out free? Just click on the picture above for a FREE book and all the materials and lessons (4 days!) needed!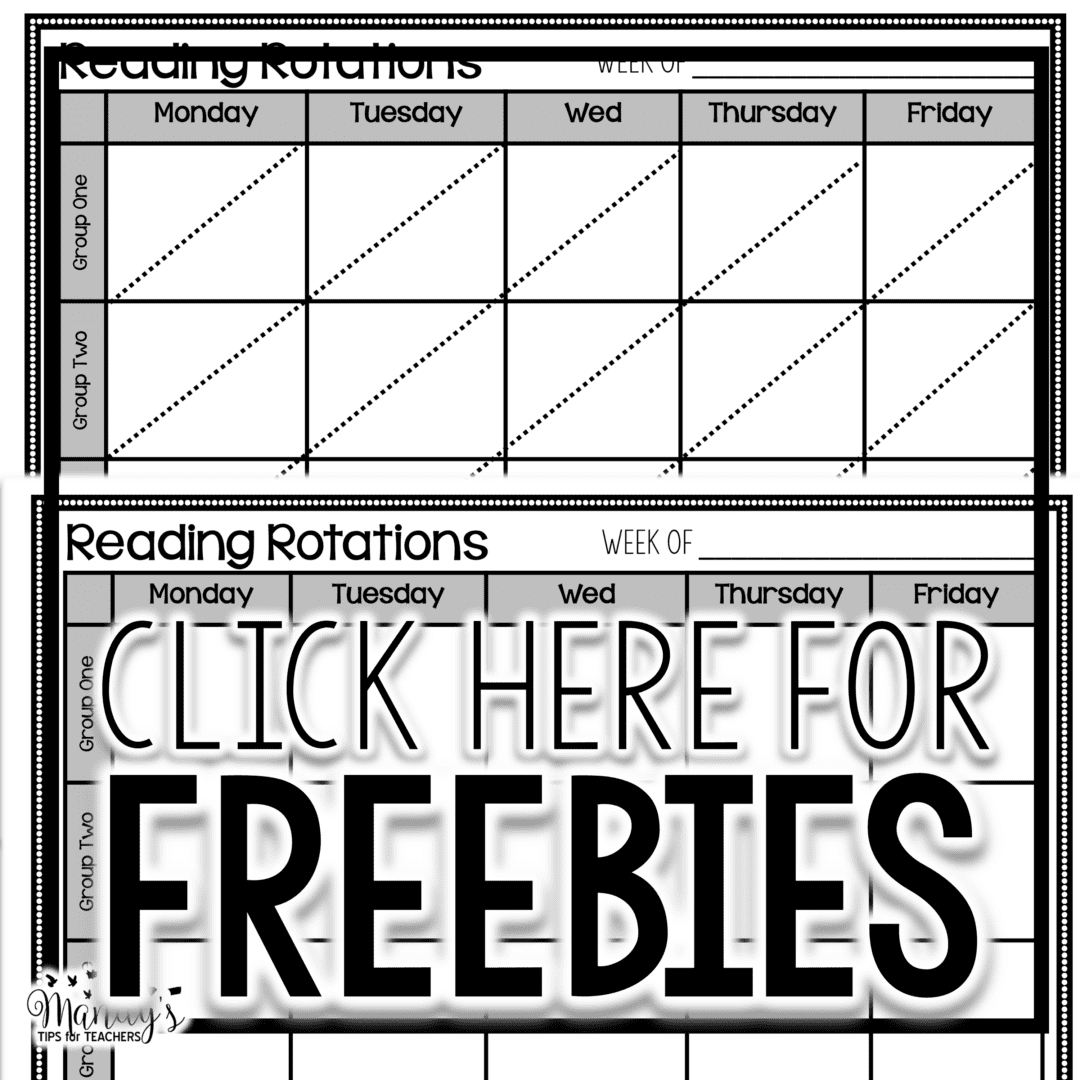 This template is great for planning what allll the kids will be doing during guided reading.  It can help the teacher see the "big picture." The dotted line divided the guided reading block in half.  This is because I typically met with two guided reading groups per day.  This allowed me to plan for two rotations per day. Click on the picture above to download the template FREE.  I have included a version for four groups and another for five groups.
Develop Routines for your Students
By developing familiar routines for your students, you can actually make your own planning much easier.  For example, if you use the Daily 5, then you will know exactly what materials you will need when kids are not in guided reading groups.  For example, you may need a story map for students to complete after listening to a story, a new story to listen to (on the IPad, computer, CD, etc.), and a new word list for working on words. Kids are familiar with the routine and it simplifies planning for the teacher.
For math centers, consider centers where the skill changes, but the game play is very similar (if not identical).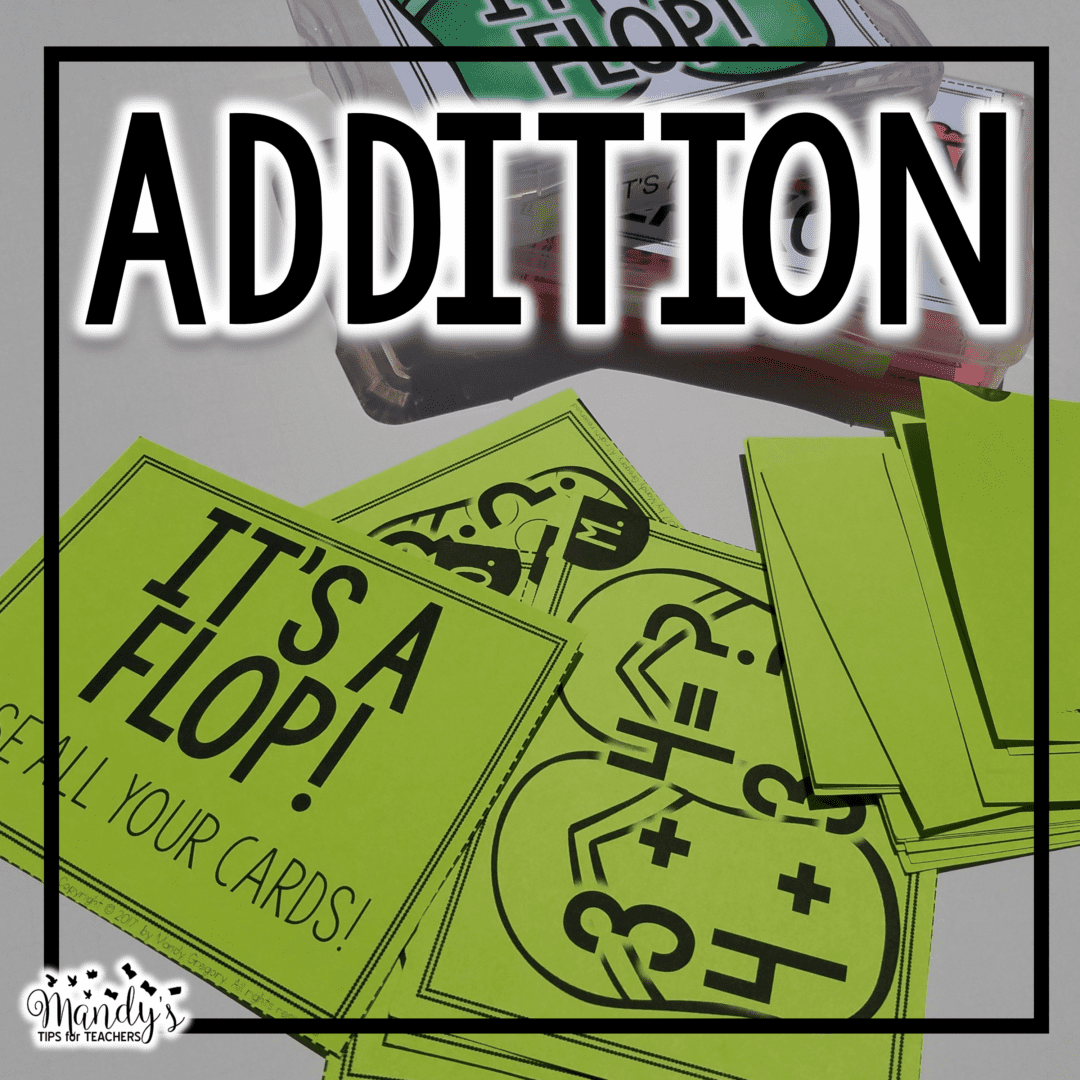 For example, these Bang! Math games are fun and engaging for partners, but cover a variety of skills.
These Print and Go centers require very few materials (die, playing cards, or paperclip for a spinner) but are engaging, easy prep, and cover TONS of skills! Students know WHAT to do as soon as they grab any of the games above!
Hopefully, these tips will help reduce your planning time so you can be more efficient and get out the door earlier!  Are you looking for more tips on how to leave earlier? Check out this blog post!
Math Centers
Sign up here for Three FREE Differentiated Math Centers to Practice Place Value within 100 or 1,000.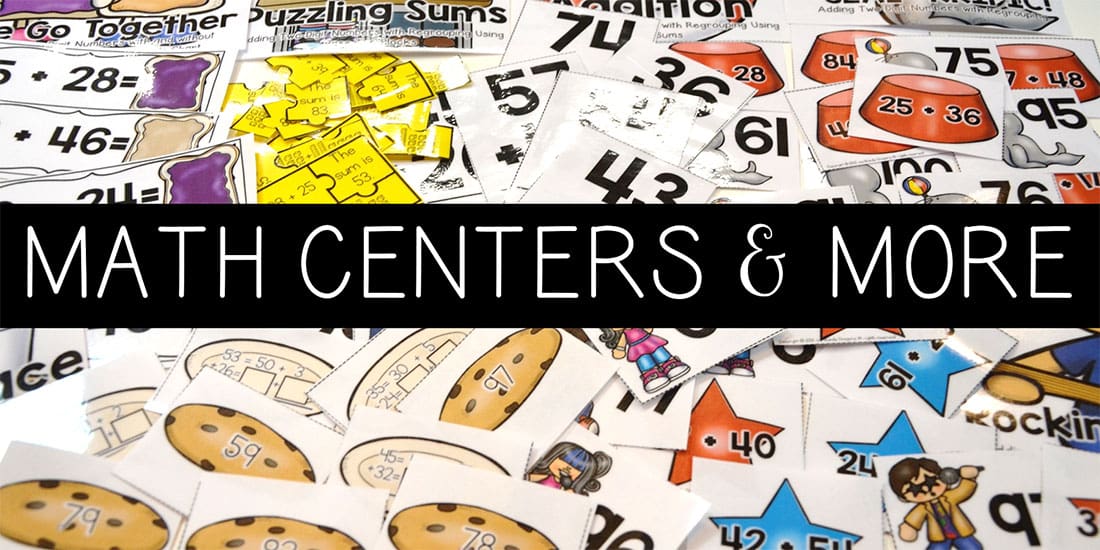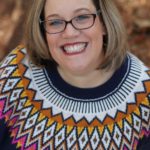 Mandy Gregory is a 2007 and 2012 Teacher of the Year. She has taught Kindergarten- 4th grades in both the general education and inclusion settings. She is currently a 1st grade Special Education teacher.  She is the owner and creator of Mandy's Tips for Teachers website (www.mandystipsforteachers.com) and has over 13 years of teaching experience. She is married with two beautiful children.