So here is part two of sneakin-and-a-peekin in our classroom. This is the area behind my guided reading table. This is where I store all my important materials since my desk has a computer on it (connected to the Promethean board) and is a pain to move. It is easy and quick access!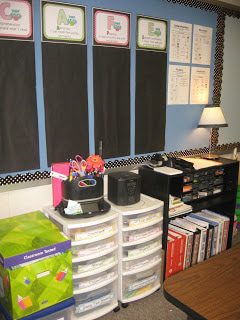 You can see the beginnings of my CAFE board. I like to have it directly behind my guided reading table so we can refer to it during groups.
The white drawers have been around forever. I store guided reading materials and math manipulatives in them.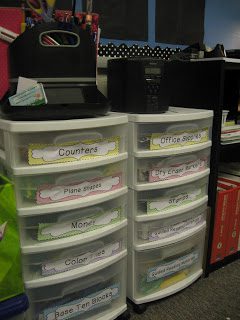 The black spinner on top is the Desk Apprentice and it is nice to keep must have files and my parent communication binder (hot pink). That is my old school garage sale find CD player on the other set of white drawers.
This black shelf keeps more of my must haves. Boy, I sure have a bunch of must haves!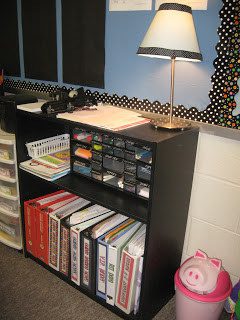 On the very top of the shelf is a clip board of my lesson plans for the week, stapler, hole punch and tape dispenser. I like to keep them right at hand! On the middle shelf is a pile of junk. Just papers I have no idea what to do with!! The white basket has mechanical pencils for guided reading that need to be put away. I provide students with pencils for guided reading so kids don't have to bring anything with them. Mechanical pencils are nice and novel for the kiddos! All the binders on the bottom contain guided reading materials and lessons, data, RTI information, and other assessment information. Do you see my cute piggy trash can? He is such a cutie! Peeking out on the right middle shelf is my tool box! I followed the craze and made my own!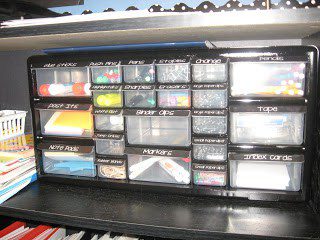 Here are my binders. I made new super cute binder covers. I might be persuaded to share them sometime soon…like in the next few days. Cough, cough, as a freebie. Ahem-in-my-newsletter-if you sign-up-in-the-little-box-to-the-right.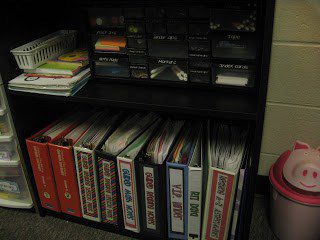 Not that I would every resort to bribery.
Nope. Not Ever.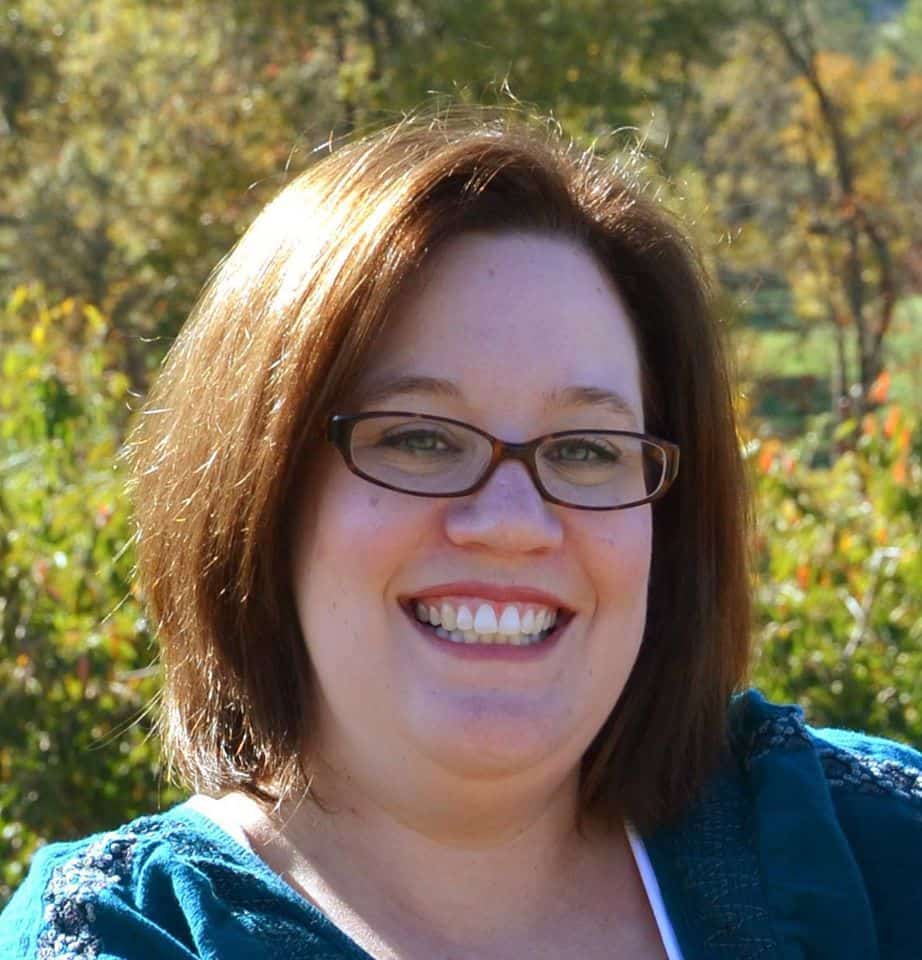 Mandy Gregory is a 2007 and 2012 Teacher of the Year. She has taught 4th, 3rd, and 2nd grade in both the general education and inclusion setting. She is the owner and creator of the Teaching Tips website (www.mandygregory.com) and has over 10 years of experience. She is married with two beautiful children.