Spring is beautiful…and spring fever in the classroom isn't so beautiful!  Are you looking for some new read alouds to jazz up your reading time?  These books are some of my FAVORITE classics. They are perfect for the end of the year and are age appropriate for second graders.
*These links below are affiliate links and I will receive a small commission from each purchase.*
I love this story!  It is an older book and some of the language in the book is a bit old fashioned.  However, it is a wonderful, whimsical tale about a little boy on an adventure. There are some really descriptive passages which are perfect to practice visualization.
This is such a sweet tale of an unusual dog (Winn Dixie) that helps a little girl make friends and learn about her past. This book is a little bit of an emotional heart tugger, in my book.
Another oldie, but goodie.  This is the gross tale of a dare, that is well, really gross. Billy is dared to eat 15 worms in 15 days.  He is up for the challenge, just add in some peanut butter and horseradish!
When I taught fourth grade,some of my students read this book independently with a reading contract.  You might want to use some of the questions for whole group discussion.  You can get it free by
scrolling down this page
! There are also vocabulary words included.
I think this may be on my all time favorite children's book list of all time.  Poppy is just a shy and timid mouse, afraid of the huge Owl that rules the forest, like all the other mice.  Until Poppy witnesses the owl eat her friend.  This is one of the many factors that leads Poppy on an adventure to show how brave she really is, and how the Owl is nothing but a scam. The characters are charming and there is lots of adventure to keep kids at the edge of their seats!
This book is a MUST have- especially for spring!  Such a sweet tale of an unlikely friendship between a spider and a farm pig. This is great for the end of the year because you can watch the movie and compare and contrast it to the book!
This is another wonderful classic.   A fun tale of a mouse that "discovers" a toy red motorcycle that he must ride!  His red motorcycle adventures are something all kids can relate to, even if the book is older.  This is another great book for comparing to a movie at the end of the year!
This is a series of books.  It is a shorter chapter book, so it can be read relatively quickly.  It is the story of a little girl (Gooney Bird Greene) that tells only absolutely true stories…even if they sound far fetched. Somehow, with wild twists and turns, the stories ARE true and it is a fun ride to listen to all her tales!
One last classic!  This is a story of a little boy that will do anything for freckles- even drink the impossibly gross freckle juice! This is a fun read aloud that you can tie in a lost with visualization- they will make some fun pictures!!!
Do you have any other chapter book suggestions that are perfect for spring and the end of the year?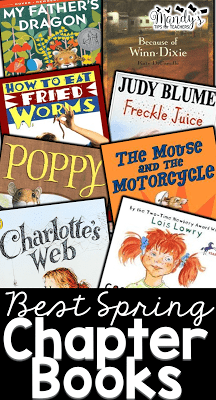 If you would like more ideas from me, be sure to follow me on Teachers Pay Teachers, Pinterest, and Facebook to catch all the freebies and ideas and more!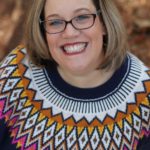 Mandy Gregory is a 2007 and 2012 Teacher of the Year. She has taught Kindergarten- 4th grades in both the general education and inclusion settings. She is currently a 1st grade Special Education teacher.  She is the owner and creator of Mandy's Tips for Teachers website (www.mandystipsforteachers.com) and has over 13 years of teaching experience. She is married with two beautiful children.