A few weeks ago I published a blog post a nonfiction scavenger hunt and then an online magazine to use for modeling on a Smart Board or Promethean board. I did the lesson and it went alright, but I do have a few reflections:
1. Even projected on the Promethean board, the magazine was still slightly "fuzzy." I loved using a real-world example (especially a magazine) but some of the features were still to blurry to read.
2. When the students did the hunt in their own texts (three baskets of leveled books, each students assigned to a different basket by reading level) they did find features, but since they went through SEVERAL texts in one sitting, it was hard to see if students were accurately identifying features. I was able to observe and help kids, but it left too much in the air for me to be comfortable to see if they really "got it."
So you guys know me)…I made some "tweaks" for next year.
First I found this AWESOME site via Pinterest (I wish I knew the original pin so I could give credit!). When I saw the site, I knew it was PERFECT for this lesson. There are several appropriate texts, but I noticed there was a rocks and minerals books geared for ages 8-10. Rocks and minerals is a unit of study in third grade science (Georgia).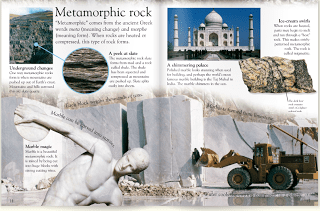 The book is perfect with lots of photographs, captions, table of contents, close ups (not on the hunt, but still worth mentioning), text boxes, cut aways, glossary, and an index!
There are several other books that would be appropriate; this book just happened to catch my eye first!!
Next, I tweaked the scavenger hunt. I kept the original file as the first page, in case you liked the original hunt. Then I added a second page that is shown below . I have half a mind to now give this to students, with a basket of levels books (a closed selection, so that I could know the answers easily) and the new scavenger hunt (shown below) as an assessment.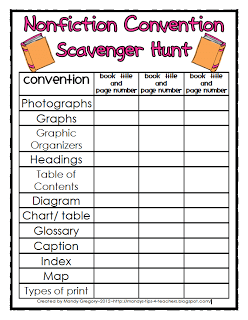 The point of this hunt is for a students to find at least 3 different examples (although some I would accept two because they may be harder to find) and write the page number and book title. I think this is an easier way to assess the students than the first hunt.
Better? Maybe? Are you guys also tweaking things EVERY time you do them? I swear, I never do the same lesson or activity the same way twice!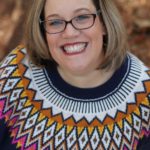 Mandy Gregory is a 2007 and 2012 Teacher of the Year. She has taught Kindergarten- 4th grades in both the general education and inclusion settings. She is currently a 1st grade Special Education teacher.  She is the owner and creator of Mandy's Tips for Teachers website (www.mandystipsforteachers.com) and has over 13 years of teaching experience. She is married with two beautiful children.