It is that time again!
Thanksgiving is almost upon us with all the yummy food and desserts!  Mmmm.  PIE!  Next week may be a bit crazy, so I thought I could help you embrace the crazy and give you some resources and ideas for read alouds.
These of my favorite literary texts for Thanksgiving!
I love Dav Pilkey.  Pretty much anything he writes is bound to be a hit with your kids- especially boys!
This is another cute one with great pictures.  I mean, just look at this cover! LOL!
These are great books for an informational study.
I love that this book is easy to understand and is accessible to almost all your 2nd-4th grade readers.  It doesn't have many text features, and the images are all illustrations, so it doesn't lend as well to teaching text features.  HOWEVER, it is a great book for laying the foundation of understanding the history of Thanksgiving.
Love Gail Gibbons.  Anything by her is always a solid choice.  It also has a few more text features than the book above.
This is a great example of a well written biography.  Sarah Hale was a very interesting lady, and the text is pretty engaging. This is the perfect book for discussing character traits and then backing it up with evidence from the text.
If your kids are doing any research on the first Thanksgiving or the life of the Pilgrims, this is a go-to book.  The table of contents is written as a series of questions, so you can use them as a model of how to find answers in the text.
Do you want all your reading lessons done for you next week?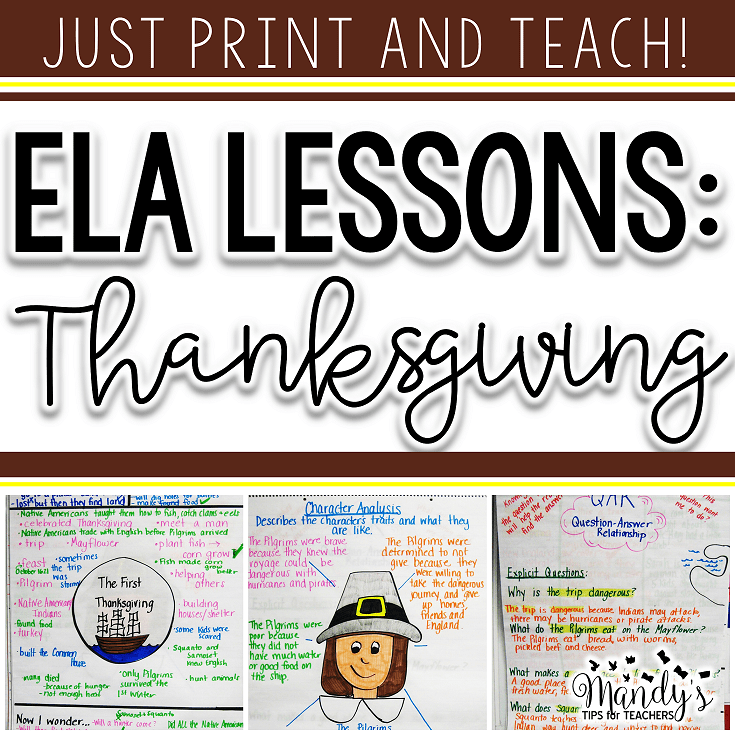 I have a few suggestions for math, too!
Whenever weeks are odd in math, like holiday weeks, I like to incorporate graphing.  It is fun, can be done is short spurts of time, and is easy to make fun and interactive.
I found some great Thanksgiving graphing freebies on TpT!
I did notice that there wasn't much other there for line plot graphs for Thanksgiving.
I created this freebie that would be great as a whole group math lesson.  Students estimate, measure to the nearest centimeter, and create a line plot graph- all in one lesson! Just click here or on the picture to get your freebie!
Also, did you catch this little adjective freebie I shared on Facebook a few days ago? Just a few sheets I made at a customer's request and I wanted to share.  Hope they help! Click on them to get your freebie!
I hope next week is EASY and smooth!  The countdown is on until a little break! LOL! Please note that the links included may be affiliate links and I may make a small commission. Thank you so much for your support!
If you would like more ideas from me, be sure to follow me on Teachers Pay Teachers, Pinterest, and Facebook to catch all the freebies and ideas and more!