Hello and welcome to our second annual Winter Wonderland link up!  Last year, The Reading Crew sponsored a winter literacy hop, but we decided to run it a little different this time. Instead of hopping with the potential of dead links, we decided on a closed link up. What this means is that there is a "map" of the blogs at the bottom of each post, so you can hop through them all at once, visit some today and some later in the week, or see what best matches your literacy needs.
On each blog, we will be sharing a mentor text lesson using the book we've chosen. The lesson will be modeling a reading skill (comprehension or writing typically, but some at the primary level may target vocabulary, fluency, or word building).  The materials that are shared may be forever freebies or may be free for a limited time. Please take note of this as you visit the blogs.
Again, we welcome you to our blogs and wish you and yours a wonderful holiday season.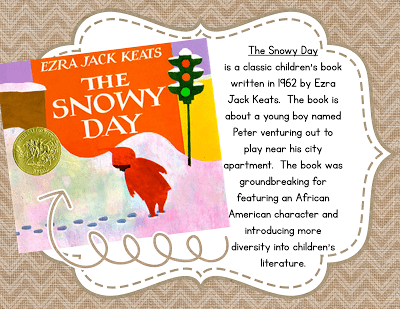 I love the simplicity of the books by Ezra Jack Keats.  His illustrations are so eye catching and simple.  The text is straight forward and I liked to use it as a model for children's writing- especially for struggling writers.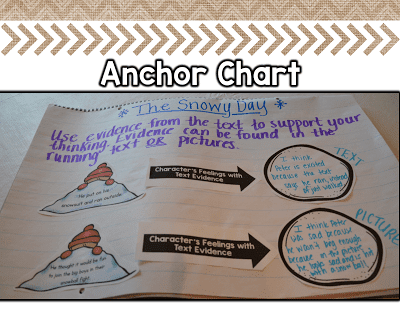 The lesson for this book will focus on using evidence from the text to discuss the character's feelings about a major event. I like to use this book because the text and pictures are a great place to find evidence for your thinking!
Set up your anchor chart prior to the lesson.   Glue down the text lifted
from the story (on the snow piles), arrows, and the blank snow balls.  My anchor chart only has two pieces of lifted
text since I had smaller chart paper.  I included black and white pictures and color pictures of the lifted text to help you save on ink if you want.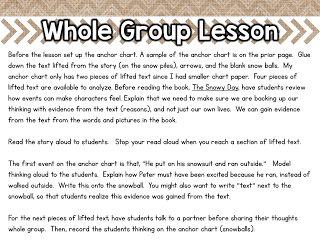 Before reading the book, The
Snowy Day, have students
review how events can make characters feel. Explain that we need to make sure
we are backing up our thinking with evidence from the text (reasons), and not
just our own
lives.  We can gain evidence from the
text from the words and pictures in the book.
Read the story aloud to students.   Stop your read aloud when you reach a
section of lifted text.
The first event on the anchor chart is that, "He put on his snowsuit and ran outside."   Model thinking aloud to the students.  Explain how Peter must have been excited because he ran, instead of walked outside.  Write this onto the snowball.  You might also want to write "text" next to the snowball, so that students realize this evidence was gained from the text.
For the next pieces of lifted text, have students talk to a partner before sharing their thoughts whole group.  Then, record the students thinking on the anchor chart (snowballs).

I also included several other freebies to extend this lesson.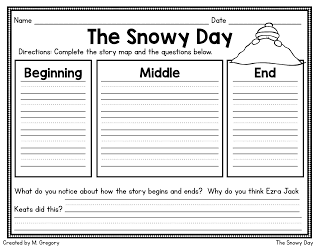 Retelling Graphic Organizer- Since The
Snowy Day has such a clear, sequenced story line, it is
the perfect text to allow students practice retelling stories. Students can retell the structure of the
story using beginning, middle, end with included graphic organizer.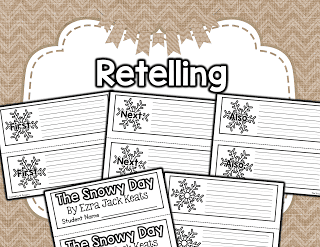 Retelling Book- Also included in this pack is a printable
book perfect for retelling with temporal words.
Copy the sheets front to back.
Then, cut along the dotted line.
Stack all the papers in an order that makes sense and staple.  Students can retell the events of the story,
using the temporal words on snowflakes to help them organize their writing.
Cause and Effect- Since the text is so simple, this is a
great text to use to introduce cause and effect.  Included in this pack are hats with a place
to write causes and effects from the story. These can be used to create an anchor
chart for a whole group lesson.  They
could also be cut out and stapled together to create a book for students to
complete independently. A blank page is also included for
students to find their own example of cause and
effect, or find in another text.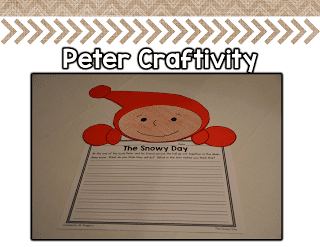 Peter Craftivity- The last activity included in this pack is a craftivity.  Students will create a Peter "peek-over" after writing about the story.  Students will predict what will happen after the book is over based on previous events in the text.  This is an open ended activity with several reasonable answers. Students could write about how Peter and his friend have a snowball fight since he was not able to play earlier with the big boys. They could also write about making tracks and playing with sticks since that is  also mentioned in the story.
You can get a your copy of this  freebie below!  Just click on the picture! 
Do you feel like you need more help with reading instruction?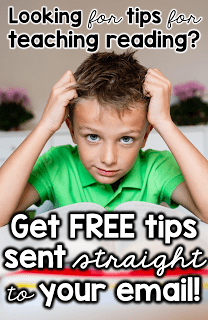 Sign up to have specific tips and strategies send straight to your email for FREE! You can sign up here! Please note, this is an additional, BRAND NEW newsletter that is separate from my blog newsletter.  If you want to get these tips, you have to sign up here!
Pin for Later: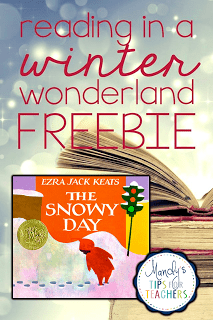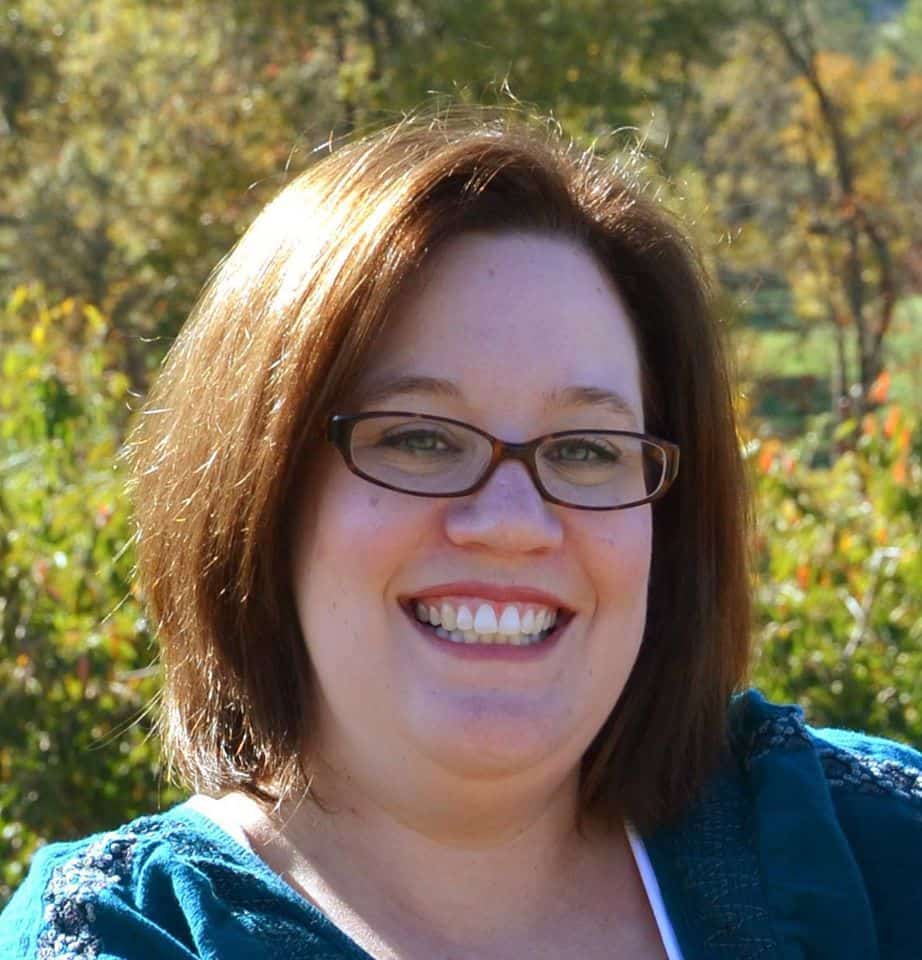 Mandy Gregory is a 2007 and 2012 Teacher of the Year. She has taught 4th, 3rd, and 2nd grade in both the general education and inclusion setting. She is the owner and creator of the Teaching Tips website (www.mandygregory.com) and has over 10 years of experience. She is married with two beautiful children.