Our first day of the 2019-2020 school year has already come and gone- Can you believe it!?!?
Let's talk about how you can make the first day of school the best first day EVER!  Here are a couple of tips and tricks to make the day as smooth as possible.
When Students Arrive
Provide an activity that ALL Students can be successful with. In the past, I have made a crossword puzzle FREE on Puzzlemaker.com with students names on one side and a color sheet on the other. That way students can choose the activity and break in those brand new crayons!
Determine Ways Home
Make sure you know how each and every student is going home the first day.  I always figured this out first thing in the morning so that if I did not know the answer I (or the office) would have time to figure it out.
Go Over the Basics
Students want to know the most important information as soon as possible:
When is snack and lunch
Where is the bathroom and when can they go
What they will do today
** Add in EXTRA bathroom breaks during the day. We all need back to school bladder training, including the teachers! LOL!
Get to Know YOU
Students want to know about YOU!  I liked to read aloud My Teacher's Secret Life or First Day Jitters.  Then I shared more about myself by sharing my ME Bag. Inside the bag, I had photos of my family, trinkets to describe myself, etc. Please note that the books below are affiliate links and I may receive a small commission at no extra expense to you!
     
Embed Procedures into All Activities
If you want it, you have to teach it!  I modeled and taught everything. If I wanted kids to use a certain pencil sharpener, we talked about it. This doesn't have to be boring!  For example, talk about recess expectations, take students outside, model the expectations, and then let students "practice" with a little extra playtime. Then, when recess arrives, they already know what to expect! When calling kids to the carpet, for the Me Bag above, teach how to sit on the carpet (criss-cross, hands in lap, etc.). If you are looking for suggestions of procedures to teach, make sure to check out this post with a HUGE list! I also have a FREEBIE for helping establish procedures for school the bathroom, hallway, recess and the lunchroom in this blog post. 
Develop a Sense of Community
There are a million activities for this. This is just what I did (and developed class rules as norms, as well!) We started by reading the story What If Everybody Did That and discussing how in our class we take care of each other and our things.  Then, as a group, we wrote our Class Promise.   Students would sign the bottom (like a contract) and then decorate a person-shaped cut out to look like themselves. We would glue these around the class promise. While students are working, call individuals over to sign the class promise.
Try to include these ideas in the promise:
No put-downs
Trustworthy
Truthful
Personal best
Active learner
If you want more ideas for developing a community, make sure to check out this blog post with a FREEBIE!
Here is the book mentioned above. Please note that the books below are affiliate links and I may receive a small commission at no extra expense to you! The book is absolutely precious!

Have a plan!
The first day of school can be overwhelming and tiring, but you need to have a plan BEYOND the first day of school.  The kids are still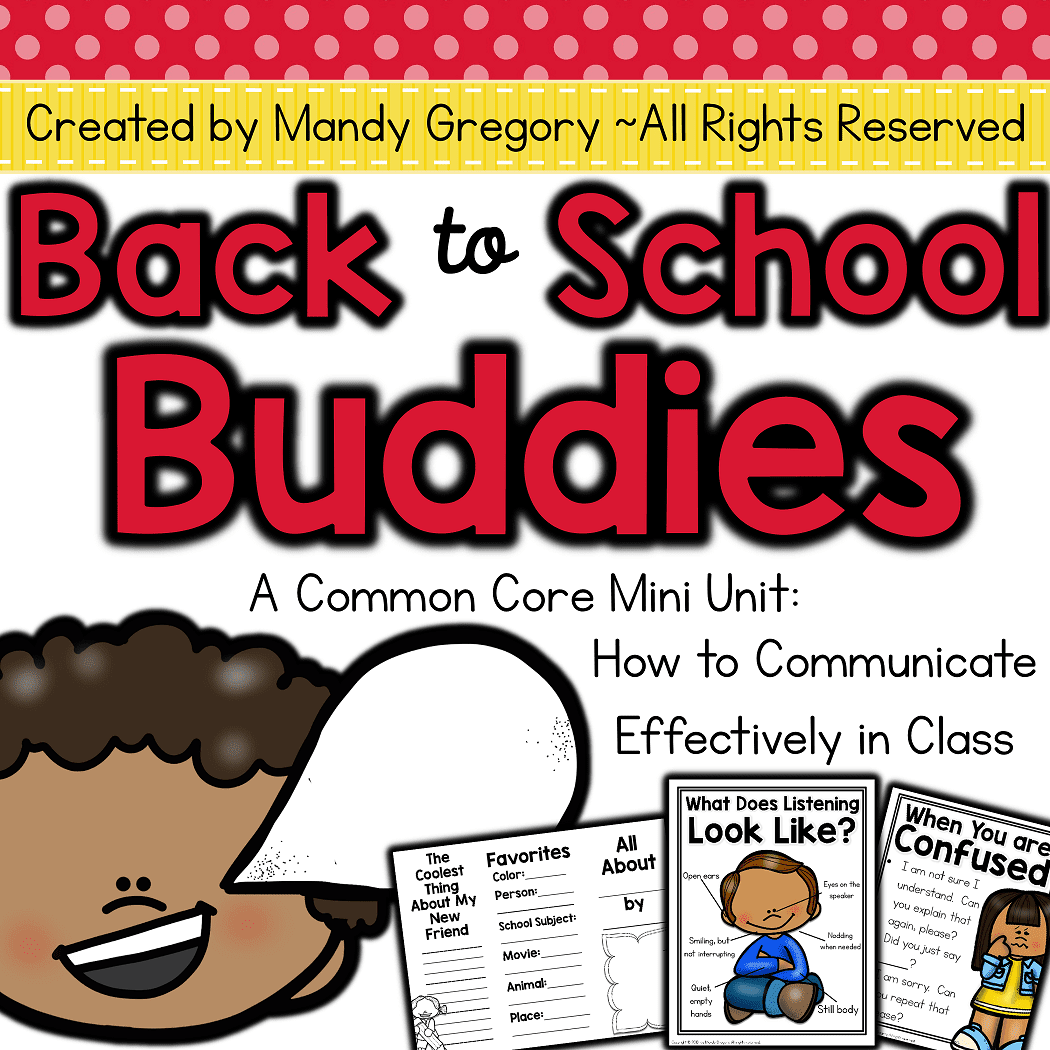 coming back the next day (or days)! What will you do then? If you need some ideas, check out my Back to School Buddies pack. It was specifically created to teach listening and speaking skills AND develop community.
If you want a few more ideas specially for the first day of school, make sure to check out this blog post with my first day of second-grade lesson plans!  I have it all spelled out, by the minute!
When you are in doubt, or overwhelmed, just remember the big THREE for the first day of school:
Get them FED.
Get them HOME.
Make it a POSITIVE experience!
THESE are the MOST important things you will need to make sure get done on the first day!
I have all these ideas typed up for you in this FREE printable! Click here to grab it. I hope your first day is FABULOUS!!!!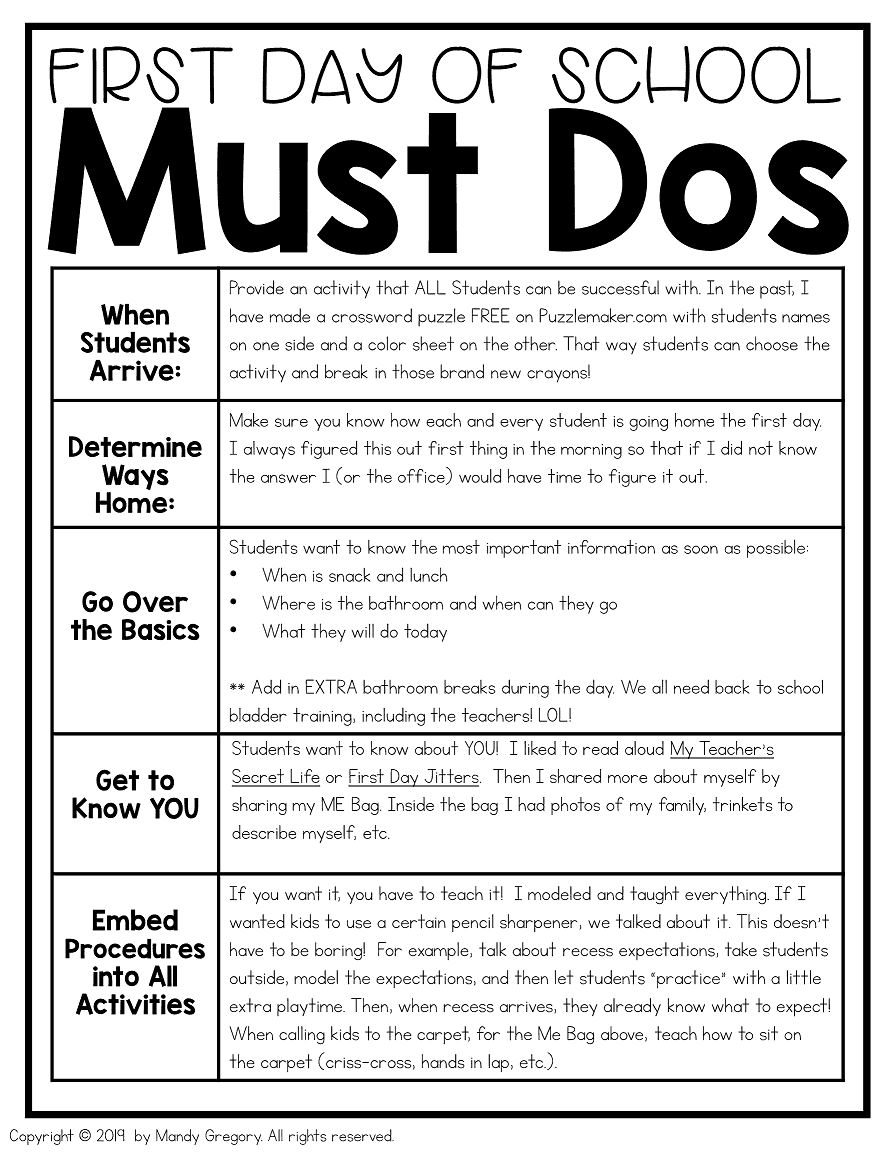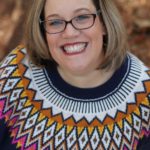 Mandy Gregory is a 2007 and 2012 Teacher of the Year. She has taught Kindergarten- 4th grades in both the general education and inclusion settings. She is currently a 1st grade Special Education teacher.  She is the owner and creator of Mandy's Tips for Teachers website (www.mandystipsforteachers.com) and has over 13 years of teaching experience. She is married with two beautiful children.