I am so excited to join in on the Growing Readers and Writers with Mentor Texts Spring Link Up! So many fabulous idea were shared in the winter link up- I can't wait to go through all these spring ones!!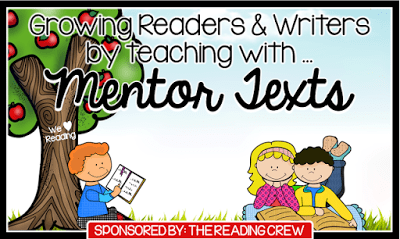 On each blog, we will be sharing a mentor text lesson using the book we've chosen. The lesson will be modeling a reading skill (comprehension or writing typically, but some at the primary level may target vocabulary, fluency, or word building). The materials that are shared may be forever freebies or may be free for a limited time. Please take note of this as you visit the blogs. Also, affiliate links are included below. I may receive a small commission upon purchase from any links below.
Are you ready to get started?

I actually choose a book that was new to me.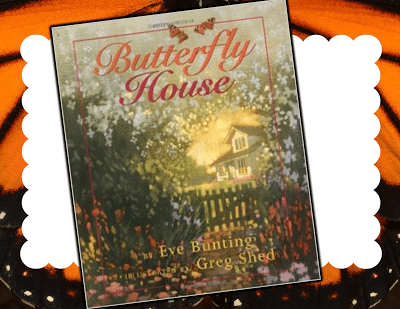 Butterfly House by Eve Bunting is a tale told in an interesting sentence structure. In some ways, it resembles poetry. It is the story of a young girl that finds a caterpillar. She and her grandfather build it a butterfly house to live in while it changes into a butterfly.
I stumbled across a read aloud of this book on
you tube.

There are so many things to do with this book. I really loved the idea of using it as an introduction for the butterfly life cycle. This book does a great job providing students simple and child friendly background information about life cycles.
This is a great opportunity to brainstorm with students the differences between informational and literary text.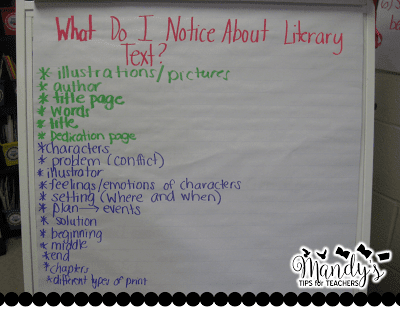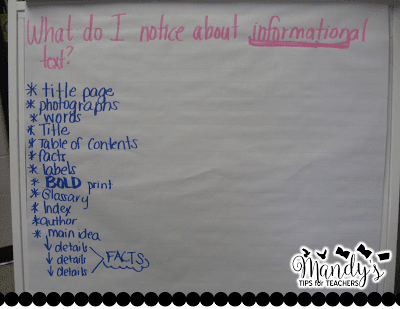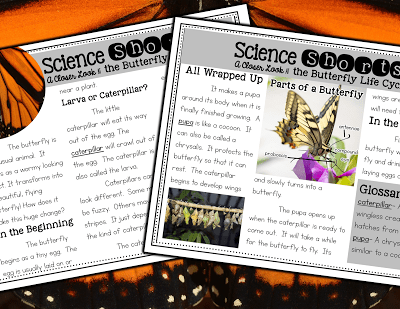 I wanted a nonfiction resource to pair up with this wonderful literary text. I wrote an informational article about the life cycle of the butterfly. It is written at about an end of the second grade reading level. I wanted to jam pack as many text features as I could. The two page article includes: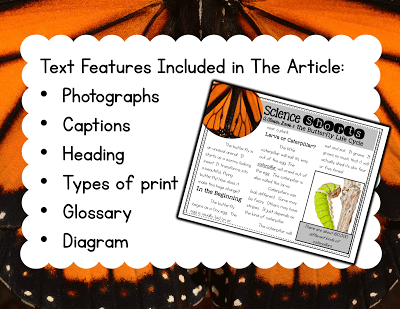 Simply copy the article front to back. I included a color version and a black and white version. There are several activities to accompany the article.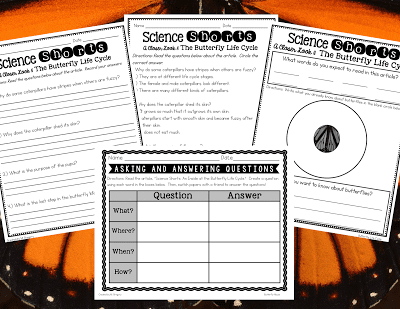 The following activities are included:
• Circle map for accessing prior knowledge about butterflies
• Multiple choice questions about the text
• Open response questions about the article. The questions are the same as the multiple choice questions, only the format is different.
• Main idea worksheet about two sections of the text
• Main idea and supporting details worksheet about two sections of the text
• Main idea and supporting details of the entire text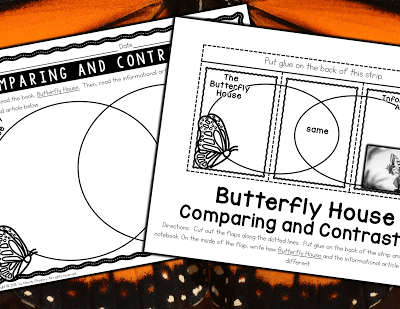 I wanted to make sure to tie the article back to the mentor text, Butterfly House. I also included a Venn diagram to compare the mentor text to the article. I included a worksheet format and a format for interactive notebooks.
Want to snag your copy of the freebie? Click on the picture below!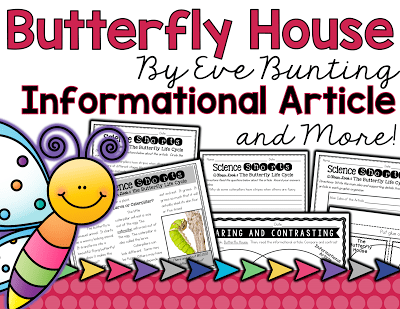 This is actually part of a larger pack. The full version has tons of materials for Butterfly House.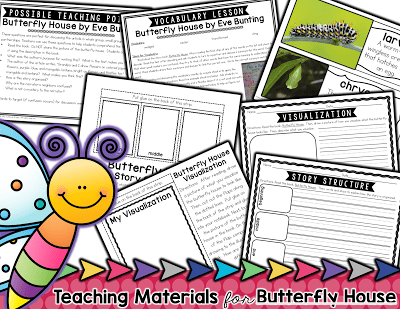 and for teaching the butterfly life cycle.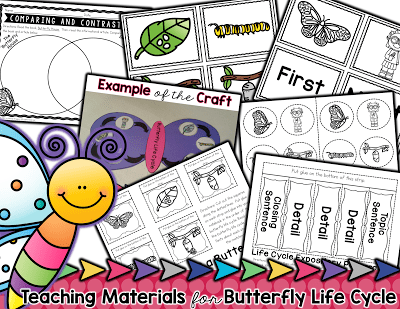 You can snag it for only $4.00 my my Tpt store
here
!
PIN FOR LATER: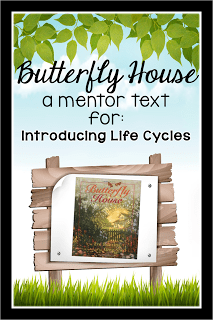 Before you move on to the next post, my mystery word is
life cycle
.
[HERE]
is the link to the form you can use to keep track of the mystery words at each stop. You'll need them for an entry on the Rafflecopter below.
Thanks so much for visiting today. If you have any questions related to this lesson, please let me now. Have a wonderful Spring, and be sure to come back soon.
Want to see all the other lessons in the link up? Check here!
An InLinkz Link-up
Do you feel like you need more help with reading instruction?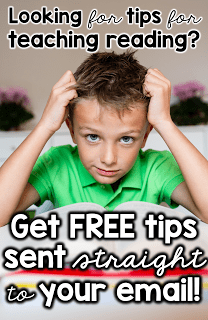 Sign up to have specific tips and strategies send straight to your email for FREE! You can sign up here! Please note, this is an additional, BRAND NEW newsletter that is separate from my blog newsletter. If you want to get these tips, you have to sign up here!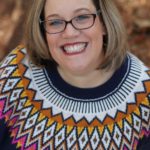 Mandy Gregory is a 2007 and 2012 Teacher of the Year. She has taught Kindergarten- 4th grades in both the general education and inclusion settings. She is currently a 1st grade Special Education teacher.  She is the owner and creator of Mandy's Tips for Teachers website (www.mandystipsforteachers.com) and has over 13 years of teaching experience. She is married with two beautiful children.